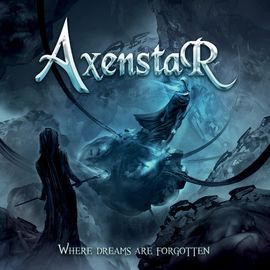 VÖ: 28.11.2014
Label: Inner Wound Records
Format: CD
Tracklist:
01. Fear
02. Inside The Maze
03. My Sacrifice
04. Curse Of The Tyrant
05. The Return
06. Demise
07. Annihilation
08. Greed
09. The Reaper
10. This False Imagery
11. Sweet Farewell
AXENSTAR wurden 1998 ursprünglich als Coverband gegründet, entdeckten dann aber doch schnell die eigenen Talente Musik und Texte zu schreiben und setzten dies dann auch entsprechend bald um.
Das im November erscheinende sechste Studioalbum "Where Dreams Are Forgotten" überzeugt daher auch mit der dazugehörigen Erfahrund, die die Band über die Jahre bereits sammeln konnte.
Man muss zwar auch sagen, dass man auf dieser CD nichts außergewöhnliches erwarten kann, aber besser man macht einfache Dinge gut, als komplizierte, oder ausgefallene schlecht. Daher werden dem Höhrer hier 11 sehr gute, schwedische Power Metal-Songs geboten die die üblichen Zutaten des Genres beinhalten.
Klare Gesangslinien, Powerchords, Dubbelbassdrumms und Keys bestimmen daher die musikalische Linie.
Einsteigend mit "Fear" geht es auch gleich zügig los. Die folgenden Tracks "Inside The Maze" und "My Sacrifice" haben auch schon beim ersten Hören Ohrwurmcharakter. So zieht sich der rote Faden durch den Silberling. Mein persönlicher Favorit ist "Annihilation", der eben auch ein typischer Power Metal Song ist.
Überblickend reiht sich hier ein Power Song an den nächsten. Balladen sucht man hier "Where Dreams Are Forgotten" vergebens.
Gemixt wurde der Langspieler übrigens von AXENSTAR selbst sowie Pelle Saether (der unter anderem schon für Wolf, Harmony und Månegarm tätig war) im Studio Underground. Gemastert wurde von Daniel Beckman (Månegarm, In Mourning, Deals Death) in den Ridge Street Studios.
Für das Artwork verantwortlich ist Felipe Machado
Franco, der bereits für Blind Guardian, Rhapsody of Fire und Iced Earth die Pinsel schwang. Die Ähnlichkeiten lassen ist im Cover irgendwie auch erkennen.
Ich denke, dass alle Power Metal Fans hier beherzt zugreifen dürfen. Die CD erfüllt alle Erwartungen die es an dieses Genre gibt.
(Sarah Jacob)
Das Album kann hier direkt bei Amazon gekauft werden.

Line-Up:
Magnus Wilterwild - Vocals, Bass
Jens Klovegård - Guitar
JoakimJonsson - Guitar
Adam Lindberg – Drums