14 Jahre Bandgeschichte ließen ILL NIÑO hinter sich und meldeten sich mit ihrem siebten Studio-Album "Till Death, La Familia" stärker denn je zurück – das Prachtstück erschien im Juli 2014.
Kritiker und Fans gleichermaßen begrüßten "Till Death, La Familia" mit offenen Armen, besonders wegen den brutalen Latin-Metal-Grooves und der großen Vielfalt, die ILL NIÑO zu einer der einzigartigsten Bands des Jahrzehnts macht.
Neue Single "I'm Not The Enemy": http://youtu.be/q5JsrxnLbh8
"Live Like There's No Tomorrow": http://youtu.be/D3ptlELrS9Y
Gefeiert wird mit einigen exklusiven Deutschland-Shows! "Wir freuen uns riesig, alle unsere verrückten Fans wieder zu sehen", sagt Sänger Cristian Machado.
Als Support exklusiv dabei die ganz neue Modern-Metal-Rakete TERROR UNIVERSAL bestehend aus aktuellen und Gründungsmitgliedern von MACHINE HEAD, ILL NIÑO und SOULFLY. Musikalisch trifft die Melodie von FIVE FRINGER DEATH PUNCH auf die Härte von MUSHROOMHEAD. Frisch unterschrieben beim neuen Label BLEEDING NOSE RECORDS wird eine 4-Track EP vom 01. bis zum 30. November 2014 kostenlos zum Download bereit stehen und dann ab Weihnachten in den CD-Regalen der Läden.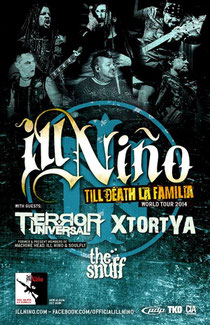 Ebenfalls an Bord: die aus Perth, Australien stammenden XTORTYA und der tschechische Geheimtipp THE SNUFF.
Dates:
18.11.2014 - A - Wien, Szene Wien
19.11.2014 - D - München, Backstage
20.11.2014 - D - Mannheim, Alte Seilerei
21.11.2014 - D - Bochum, Matrix
22.11.2014 - D - Köln, Underground
23.11.2014 - NL - Deventer, Burgerweeishuis
ILL NINO online:
www.facebook.com/Officialillnino
www.facebook.com/terroruniversalofficial