THRESHOLD werden ihr aktuelles Studioalbum »For The Journey« diesen Sommer, am 20. Juni im "Hypothalamus" Club in Rheine, einmalig in voller Länge spielen.
"Es ist das erste Mal, dass wir eines unserer Alben komplett am Stück spielen werden und wir freuen uns tierisch darauf", kommentiert Keyboarder Richard West und fügt hinzu: "Auf dem Alben sind so viele Songs die wir bisher noch nie Live gespielt haben, daher wird es eine ganz spezielle Nacht für unsere Fans wie auch für uns."
THRESHOLD werden zudem zahlreiche Festivals spielen, in Deutschland werden die Briten auf dem legendären "Headbangers Open Air" sowie dem "Neuborn Open Air" peformen.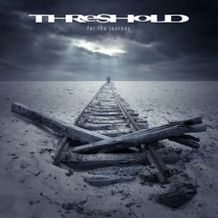 THRESHOLD – Live 2015:
19.06.2015 Dokk'em Open Air, Dokkum, NL
20.06.2015 Hypothalamus, Rheine, DE
03.07.2015 Hard Rock Laager, Vana-Vigala, EE
23.07.2015 Headbangers Open Air, Hamburg, DE
28.08.2015 Neuborn Open Air, Wörrstadt, DE
Bestellt »For The Journey« hier: http://smarturl.it/THRESHOLD-Journey

Mehr zu »For The Journey«:

'Unforgiven' (video clip): https://www.youtube.com/watch?v=gmzMWFyA5A0

'Watchtower On The Moon' (lyric video): http://youtu.be/ToYSRker8UM

---
THRESHOLD - neues Video 'Unforgiven' feiert Premiere auf RockHard.de, Europatour startet Freitag
Die Britischen Metaller THRESHOLD haben erst kürzlich ihr neues Album »For The Journey« via Nuclear Blast veröffentlicht, welches weltweit hohe Chartergebnisse erzielen konnte.
Heute veröffentlicht die Band das offizielle Musik Video zum Albumtrack 'Unforgiven'.
Im deutschsprachigen Gebiet, feiert das Video seine exklusive Premiere beim Rock Hard Magazin. Zu sehen gibt es den Clip hier: http://smarturl.it/UnforgivenVideo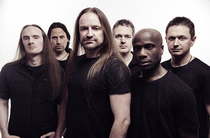 »For The Journey« ist der Nachfolger zum 2012er Werk »March Of Progress« und wurde von Karl Groom und THRESHOLD Keyboarder Richard West in den Thin Ice Studios in England produziert. Gemastert wurde das Werk von Mika Jussila in den Finnvox in Finland. Das Artwork stammt vom polnischen Surrealismus Künstler Leszek Bujnowski.
Zudem sind TRHESHOLD ab Freitag auf Europatour, um »For The Journey« den Fan zu präsentieren. Live könnt ihr THRESHOLD bei den folgenden Terminen erleben: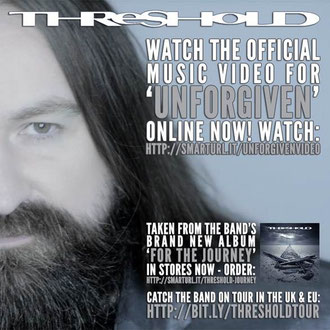 31.10.2014 - B - Vosselaar, Biebob
01.11.2014 - D - Hamburg, Markthalle
02.11.2014 - D - Bremen, Tivoli
03.11.2014 - D - Flensburg, Roxy
04.11.2014 - D - Berlin, K17
06.11.2014 - D - Aschaffenburg, Colos Saal
07.11.2014 - NL - Weert, Boscul
08.11.2014 - D - Essen, Turock
09.11.2014 - NL - Zoetermeer, Boerderij
11.11.2014 - D - Ludwigsburg, Rockfabrik
12.11.2014 - F - Èragny, Covent Garden Studios
13.11.2014 - D - Aachen, Musikbunker
14.11.2014 - D - Rheine, Hypothalamus
15.11.2014 - CH - Aarau, Kiff
16.11.2014 - I - Brescia, Circolo Cologny
17.11.2014 - SK - Bratislava, Randal Club
18.11.2014 - D - München, Feierwerk
20.11.2014 - UK - London, O2 Islington Academy
21.11.2014 - UK - Chester, The Live Rooms