Die norwegischen Melodic Heavy/Progressive Metaller TRIOSPHERE geben kurz vor Veröffentlichung ihres neuen Albums "The Heart Of The Matter" mit einem acht Minuten langen Albumtrailer einen schönen Vorgeschmack.
Außerdem freut sich die Band, mit Kenneth Tårneby ihren neuen Drummer offiziell vorzustellen: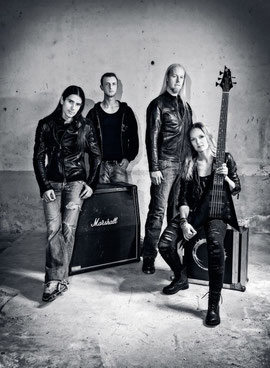 "After an extensive search for the new Triosphere-drummer, testing both Norwegian and foreign ones, we finally found the perfect guy back in March. This guy blew us away from day one, and we offered him the job after less than two hours of rehearsing together. His audition was completely flawless, and things have just gotten better ever since! If you have seen us live the last six months, you already know how amazing this guy is. For the rest of you, please welcome Kenneth Tårneby as a fulltime member of Triosphere!
Kenneth did his first gig with us at PPM Fest Lotto Mons Expo in Belgium in April, so why haven't we put these news out sooner, you might ask? Well, his drumming and his personality is almost too good to be true, so we have been pinching ourselves to wake up and find it was just a dream, but fortunately it's all for real.
Since Ørjan did his last tour with the band in 2011 the lineup has been incomplete and we've had to do the last three European tours with substitutes (both of whom we owe a huge gratitude for lending us their awesomeness). Needless to say it is a huge boost for us to finally be firing on all four again, and we cannot wait to go out on tour and show you the tightest Triosphere in years!!"
---
TRIOSPHERE - neues Lyric-Video zu "The Heart's Dominion"
Am 07. November sind die norwegischen Melodic Heavy/Progressive Metaller TRIOSPHERE mit neuem Album zur Stelle. Das Werk trägt den Titel "The Heart Of The Matter". Zum Song "The Heart's Dominion" wurde bereits ein Lyric-Video veröffentlicht: https://www.youtube.com/watch?v=VqFtlAnhzu8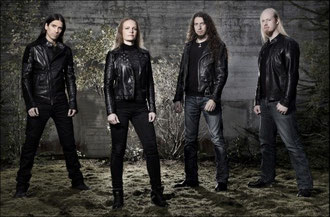 Mit ihren ersten beiden Alben "Onwards" und "The Road Less Travelled" haben sich Triosphere einen erstklasssigen Ruf in der Szene erspielt. Insbesondere nach dem Release ihres letzten Albums war die Band sehr live-aktiv und gleich auf drei Europatourneen vertreten: erst mit Crimson Glory, dann mit Kamelot und schließlich mit Sonata Arctica.
2013 war Frontfrau und Sängerin Ida Haukland zudem Teil des "Epysode"-Projekts, bei dem sie unter anderem in ein Duett mit Evergrey-Sänger Tom Englund zu hören ist.
Das Jahr 2014 steht aber wieder ganz im Zeichen von TRIOSPHERE, die mit "The Heart Of The Matter" vier Jahre nach "The Road Less Travelled" endlich ihr neues Album präsentieren. So selbstbewusst, eigenständig und zielstrebig war die Band noch nie zuvor. Ihr hochklassiger Melodic Metal, der geschickt Elemente von Power Metal, Progressive Metal und ein paar zeitgemäßen Rock-Elementen in sich vereint, ist so zum Trademark-Sound dieser außergewöhnlichen Band geworden. "The Heart Of The Matter" erhielt Mix unbd Mastering durch Jens Bogren (a.o. Opeth, Paradise Lost, Symphony X, Amon Amarth, Kreator) ain den Fascination Street Studios, Schweden.