METALLICA KÜNDIGEN DEN RELEASE DER 10-JAHRE-JUBILÄUMS-EDITION DER "METALLICA: SOME KIND OF MONSTER" DOKUMENTATION ALS DOPPEL-DVD UND 2-DISC SET MIT BLU-RAY UND DVD AM 21. NOVEMBER 2014 AN PREISGEKRÖNTE DOKUMENTATION ZUM ERSTEN MAL DIGITAL UND ALS VIDEO ON DEMAND ERHÄLTLICH
Metallica werden ihren vergriffenen, bahnbrechenden Film "METALLICA: Some Kind Of Monster" am 21. November zu seinem 10-jährigen Jubiläum als Doppel-DVD und 2-Disc Set mit Blu-ray und DVD bei Blackened Recordings via Virgin/Universal veröffentlichen.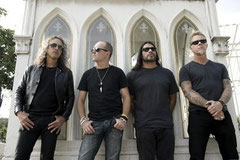 Der Film "METALLICA: Some Kind Of Monster", der ursprünglich am 9. Juli 2004 veröffentlicht wurde, folgt der Band durch drei ihrer turbulentesten Jahre in ihrer über drei Jahrzehnte-langen Karriere. Er gibt dem Zuschauer einen unglaublich authentischen und intimen Einblick in Leben und Psyche der Mitglieder einer der erfolgreichsten Rock-Bands in der Musikgeschichte, in dem sie sich den Weg durch Abhängigkeit, ihren Alltag, Gegenwind ihrer Fans und den nahezu totalen Zusammenbruch während der Arbeit an ihrem "St. Anger" Album kämpfen. Die Dokumentation, bei der das preisgekrönte Team Joe Berlinger & Bruce Sinofsky ("Brother's Keeper", "Paradise Lost 1-3") Regie führten, gewann den Independent Spirit Award in der Kategorie Bester Dokumentarfilm.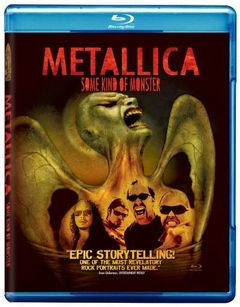 "Unterhaltsam, bewegend und historisch wichtig" New York Times
"Dies ist ein extraordinärer Film über eine mehrfach-Platin Supergruppe, die sich kopfüber in eine Mid-Life Ehekrise stürtzt… ein außerordentlich unterhaltender Film" Uncut
"Fatastisches Porträt einer Band im freien Fall.. was für ein Ritt!" Time Out
"Ein fesselnder Einblick darein, wie schwierig es sein kann, nach über 20 Jahren im Geschäft in Bestform zu bleiben" Film Review
"Überraschend raffiniert, ehrlich und gut selbst gemacht" Independent
"Fesselndes und erhebendes Menschen-Drama" Q
"Filmisches Gold" Peter Travers, Rolling Stone
"Anschauen ist notwendig" Total Film
"Hinreißend" Empire
Dieser Release zum 10-jährigen Jubiläum markiert das erste Mal, dass "METALLICA: Some Kind Of Monster" digital und bei Video On Demand erhältlich sein wird. Die aktualisierte Version wird einen zusätzlichen Bonus-Film enthalten, "Metallica: This Monster Lives", ein 25-minütiges Nachfolgestück, das beim Toronto International Film Festival 2013 während der Veröffentlichung ihres zweiten Films "Metallica: Through The Never" gefilmt wurde und Interview-Material mit der Band und Berlinger & Sinofsky enthält und das Jahrzehnt seit dem Release des Dokumentarfilms betrachtet.