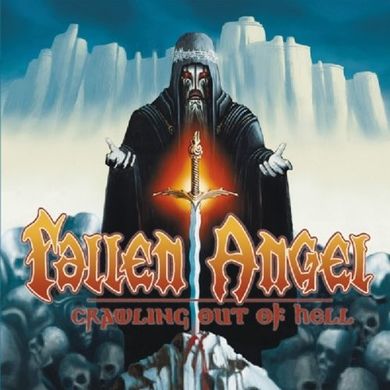 VÖ: 30.05.2014
Label: Killer Metal Records (H'ART)
Format: CD
Tracklist:
01. Crash to Oblivion (0:47)
02. Sinner's Vengeance (5:03)
03. March into Hell (1:01)
04. Blood on My Soul (3:19)
05. The Grinding Wheels of War (2:00)
06. The Reapers Shall Gather (3:18)
07. Arrival (1:11)
08. Dark Lord (4:34)
09. Darkness (4:37)
10. The One Who Walks Alone (4:51)
11. The Answer (5:55)
12. Respiration Desperation (1:08)
13. The Neutral Zone (4:40)
14. Life or Death (3:50)
15. On and On (4:54)
16. Ashes to Ashes (1:01)
17. Leaving It All Behind (6:04)
18. Watching (3:37)
19. Sad Wings (6:15)
20. Grant Me Peace (4:00)
Fallen Angel stammen aus dem Hinterland New Yorks und sind engagiert dabei, ihre dreiteilige, epische Saga zu schreiben und einzuspielen. Ihr mutiges Bemühen, eine erdachte Geschichte mit einer unglaublicher Illustration und starken Kompositionen zu verbinden ist nichts anderes als bemerkenswert und dabei auch noch einen weißen Flecken auf der Landkarte der Musikindustrie zu schließen! Ihr Plan, eine CD-Trilogie zu veröffentlichen, die auf einer Novellen-Trilogie basiert und auch von dieser begleitet wird, ist mit Sicherheit die Erste ihrer Art. Geschrieben wurde diese von Bandgründer und Lead-Gitarrist John Cruppe. Natürlich stimmt es, dass auch bereits eine Menge anderer Künstler konzeptionelle Alben mit großartigen Illustrationen in der Vergangenheit veröffentlicht haben, aber dies ist das erste Mal, dass es im Trilogie-Format und auf Basis aktueller Erzählliteratur geschieht.
Ursprünglich erschien das Album bereits im Jahr 2010 und wurde unter Eigenregie auf den Markt gebracht, nun wurde das Debut der US Band unter dem Label Killer Metal Records neu aufgelegt.
4 Jahre später hat der Mix aus US und Power Metal noch nichts von seiner Qualität verloren und weiß erneut zu begeistern. Die Einflüsse von Bands wie Judas Priest und Iced Earth sind unüberhörbar. Während man im ersten Teil des Albums welches 20 Titel umfasst den ersten Teil einer als Trilogie ausgelegten musikalischen Geschichte vorfindet, die Hand in Hand geht mit einer Novellen-Trilogie von Bandleader John Cruppe bevorzugt teilweise deftig aufs Gaspedal drückt und Power Metal zelebriert, schlägt man im hinteren Teil des Albums durchaus auch ruhige und nachdenkliche Töne an, die manches Mal an Queensryche erinnern.
Das Album kann man getrost jedem empfehlen der auf guten Power Metal steht, gespannt kann man auf den zweiten Teil der Trilogie warten, wann immer dieser auch erscheinen wird.
(Jan Heesch)
Das Album kann hier direkt bei Amazon gekauft werden.