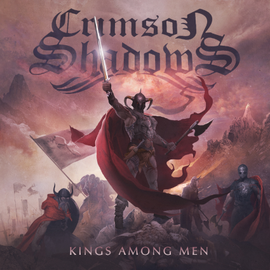 VÖ: 29.08.2014
Label: Napalm Records
Format: CD
Tracklist:
1. March Of Victory (Intro) (1:10)
2. Rise To Power (4:16)
3. Heroes Among Us (4:33)
4. A Gathering Of Kings (5:28)
5. Maidens Call (6:23)
6. Braving The Storm (6:54)
7. On The Eve Of Battle (Intro) (0:57)
8. Freedom And Salvation (4:41)
9. Dawn Of Vengeance (5:20)
10. Moonlit Skies And Bloody Tides (10:14)
Um in Wacken den Metal Battle zu gewinnen muß man schon was vorweisen können, was Crimson Shadows im Jahr 2013 getan haben. Sie konnten sich mit ihrem Sound in die Ohren und Herzen des Publikums spielen. Bereits 2012 legten sie mit "Glory On The Battlefield" ihr Debüt vor, ein Vertrag bei Napalm Records folgte und mit "Kings Among Men" die neue Platte.
Atemberaubende Gitarrensoli, vielseitige Vocals (vom gutturalen Growl bis hin zum melodiösen Klargesang ist alles dabei), aufwändige Inszenierungen, die nach dem Wort "episch" schreien kennzeichnen Crimson Shadows' famoses Werk "Kings Among Men". Moderner Power Metal trifft auf melodischen Death Metal, Herz trifft Hirn, die Schönheit der Melodie trifft die biestigen Riffs. Mit Aggression und Melodie, mit pfiffigen Arrangements und langen Songs, die etwas von einer Achterbahn-Fahrt haben liefern die Kanadier einen spektakulären Longplayer ab, der ein Pflichtkauf für Fans von Dragonforce und Children of Bodom darstellt.
(Jan Heesch)
Das Album kann hier direkt bei Amazon gekauft werden.