- BATTLEAXE - NWoBHM Kultalbum "Power From The Universe" Re-Release erscheint im November -
SPV / Steamhammer veröffentlicht eines der NWoBHM Kultalben am 28. November 2014.
"Power From The Universe" wurde digital remastert und erscheint in einem hochwertigen Digipak incl. 4 Bonus Tracks und einem neuen erweiterten Booklet mit Linernotes, einem History Special und Track by Track Kommentaren.
Das ist ein Muß für jeden Fan der New Wave of British Heavy Metal!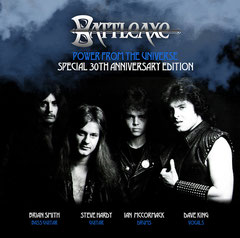 Tracklisting:
01. Chopper Attack 04:19
02. Metal Rock 04:13
03. Licence To Rock 04:23
04. Fortune Lady 06:49
05. Shout It Out 04:09
06. Over The Top 05:09
07. Power From The Universe 03:56
08. Make It In America 05:07
Bonus Tracks:
09. Killer Woman 03:01
10. Radio Thunder 03:38
11. My Love`s On Fire 03:26
12. Love Sick Man 03:55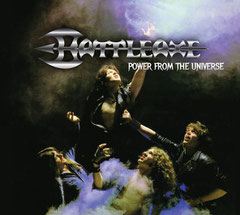 Das aktuelle Line-Up besteht aus den Original-Mitgliedern Dave King (vocals) und Brian Smith (bass) sowie Mick Percy (guitar) und dem neuen Drummer Ricky Squires.
Das neue Studio Album "Heavy Metal Sanctuary , welches von Fred Purser (ex-Tygers Of Pan Tang) gemastert wurde, erschien im Februar 2014.
BATTLEAXE online:
https://www.facebook.com/BATTLEAXE.nwobhm.OFFICIAL