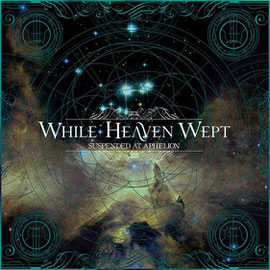 VÖ: 24.10.2014
Label: Nuclear Blast
Format: CD
Tracklist:
I: Introspectus
II: Icarus And I
III: Ardor
IV: Heartburst
V: Indifference Turned Paralysis
VI: The Memory Of Bleeding
VII: Souls In Permafrost
VIII: Searching The Stars
IX: Reminiscence Of Strangers
X: Lifelines Lost
XI: Retrospectus
WHILE HEAVEN WEPT wurden bereits im Jahre 1989 gegrümdet, trotzdem ist die Band aus Virginia dem ein oder anderen noch relativ unbekannt. Zum 25-jähgirgen Bandjubiläum veröffentlichen sie nun ein neues, vielversprechendes Meisterwerk des Epic Metal-Genres.
"Suspended At Aphelion" besteht im Grunde aus nur einem einziges Song, der in elf Teile unterteilt wurde.
Beginnend mit dem Instumentalstück "Introspectus", welches sehr ruhig aus den Boxen daher geschlendert kommt, geht es weiter zu "Icarus And I". Dieser Song klingt ein wenig wie ein Streit zwischen Gut und Böse. Bei "Ardor" geht es wieder langsamer zur Sache, genauso wie auch beim Folgestück "Heartburst". "Indifference Turned Paralysis" bringt dann wieder einige BPM mehr auf den Regler und so zieht sich dieses Wechselspiel aus schnell und langsam wie ein roter Faden durch die musikalische Palette.
Auch bei dieser Band bedient man sich den szenetypischen orchestralen Einflüssen sowie ab und an einem Wechselspiel aus Clear Vocals uns Screams, welches sich mittlerweile auch an immer wachsender Beliebtheit erfreut. Auf "Suspended At Aphelion" trifft man auch alte Bekannte in Form von Fates Warning Drummer Mark Zonder und Gründungsmitglied Victor Arduini an der Gitarre wieder, die hier beide ein Gastspiel geben.
 Das Coverartwork stammt übrigens ebenfalls von einem alten Bekannten. Gustavo Sazes war bereits für Bands wie Morbid Angel und Arch Enemy am Werk.
Mein Tipp: für alle Fans des Epic Metal, ist dieses Album auf jeden Fall ein absolutes Muss!
(Sarah Jacob)
Das Album kann hier direkt bei Amazon gekauft werden.

Diskografie:
1995: Lovesongs of the Forsaken
1998: Sorrow Of The Angels
2005: Of Empires Forlorn
2009: Vast Oceans Lachrymose
2010: Triumph:Tragedy:Transcendence
2011: Fear Of Infinity
2014: Suspended At Aphelion
WHILE HEAVEN WEPT lineup:
Tom Phillips, Guitars, Keyboards, Voice
Jim Hunter, Bass
Trevor Schrotz, Drumset
Scott Loose, Guitars
Rain Irving, Lead and Harmony Voices
Michelle Schrotz, Keyboards, Harmony Voices
Jason Lingle, Keyboards and Voices