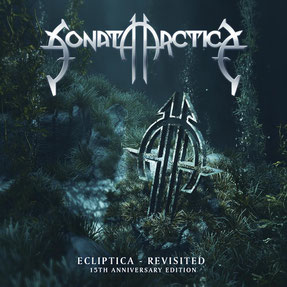 VÖ: 24.10.2014
Label: Nuclear Blast
Format: CD
Tracklist:
01. Blank File
02. My Land
03. 8th Commandment
04. Replica
05. Kingdom For A Heart
06. Fullmoon
07. Letter To Dana
08. UnOpened
09. Picturing The Past
10. Destruction Preventer
Bonus:
11. I Can't Dance (Genesis cover)
Ursprünglich erschien "Eliptica" vor 15 Jahren als Debütalbum der Finnen von SONATA ARCTICA. Damals krempelte es die Szene komplett um und war somit ein Meilenstein des Melodic Metal.
Aktuell ist die Band noch mit dem aktuellen Album "Pariah's Child" auf Tour, aber da es mittlerweile anscheinend zum guten Ton gehört, ein Jubiläumsalbum auf den Markt zu werfen, schließt man sich mit "Eliptica - Revisited; 15th Anniversary Edition" an und nimmt das Album einfach neu auf. Nach all den Jahren natürlich auch mit entsprechend besserer Technik, dem gelernten know-how.
Die Scheibe überzeugt durch einen runden, vollen Sound, der gleich ins Ohr geht und nach mehr verlangt. Hier macht sich die Erfahrung der letzten Releases in der Qualität des Albums, bzw. der Neuaufnahmen bemerktbar. Die Songs klingen straighter und sortierter als es bei der Erstveröffentlichung noch war. Dies mag vermutlich auch an der mehrfach geänderten Bandbesetzung liegen, da hier natürlich auch immer wieder neue Erfahungswerte und Können in den Sound einfließen.
Im Vergleich zur Aufnahme aus dem Jahr 2000 gibt es auf der Revisited-Version kaum Änderungen. SONATA ARCTCA beließen die Songs fast im Originalzustand. Leichte Variationen in den Vocals oder Tempi sind fast nicht zu bemerken.
Als Bonustrack wurde hier übrigens der Genesis-Klassiker "I Can't Dance" in einer sehr interessanten Version auf den Langspieler gepackt.
Fazit: Wer kein eingefleischter Fan ist, kann gut mit der ersten Scheibe leben und diese Neuaufnahme ist in diesem Falle nur ein "nice to have". Echt Vollblutfans werden hier kaum von einem Kauf abzuhalten sein und dann lohnt sich die Anschaffung auch in jeden Fall!
(Sarah Jacob)
Das Album kann hier direkt bei Amazon gekauft werden.

Diskografie:
1999: Ecliptica (neu gemastert 2008)
2001: Silence (neu gemastert 2008)
2003: Winterheart's Guild
2004: Reckoning Night
2007: Unia
2009: The Days of Grays
2012: Stones Grow Her Name
2014: Pariah's Child
2014: Ecliptica - Revisited; 15th Anniversary Edition
SONATA ARCTICA lineup:
Tony Kakko, Vocals & Keyboards
Tommy Portimo, Drums
Elias Viljanen, Guitar
Pasi Kauppinen, Bass
Henrik Klingenberg, Keyboards