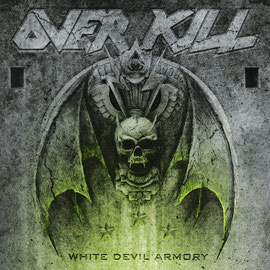 VÖ: 18.07.2014
Label: Nuclear Blast
Format: CD
Tracklist:
01. XDM (0:49)
02. Armorist (3:53)
03. Down To The Bone (4:04)
04. Pig (5:21)
05. Bitter Pill (5:48)
06. Where There's Smoke (4:20)
07. Freedom Rings (6:52)
08. Another Day To Die (4:56)
09. King Of The Rat Bastards (4:09)
10. It's All Yours (4:26)
11. In The Name (6:03)
Mit "While Devil Armory" veröffentlichten OVERKILL bereits ihr 17. Studioalbum. In den 34 Jahren der Bandgeschichte könnte man meinen, dass es sich langsam ausgespielt haben könnte. Das Rad wird ja auch nicht neu erfunden... Was erwartet den Hörer also bei diesem Langspieler?
Richtig! Nichts Neues! Aber das altbewährte und von vielen so geliebte machen OVERKILL einfach immer wieder etwas besser. Sie perfektionieren nach wie vor das Spiel innerhalb der Band, die ja logischerweise auch den ein oder anderen Musikerverschleiß zu verzeichnen hatte.
Auf "White Devil Armory" findet man die gewohnten harten Riffs und rauhen Töne, die einen vom ersten Moment an zum aufspringen und headbangen animieren. Vom Tempo her, hält sich das Album an und für sich auf einem angenehm schnellen Level. Einzige Ausnahme hierbei, ist der Track "Where There's Smoke". Hier ist bitte gepflegtes ausrasten angesagt!
Mit der Anschaffung des Albums machen die Thrash Metal Fans in keinem Fall etwas falsch! Ganz im Gegenteil. Die Urgesteine und Pioniere des Genres können auf "White Devil Armory" erneut überzeugen und damit ist das Album einen Kauf wert!
(Sarah Jacob)
Das Album kann hier direkt bei Amazon gekauft werden.

Diskografie:
1985: Feel the Fire
1987: Taking Over
1988: Under the Influence
1989: The Years of Decay
1991: Horrorscope
1993: I Hear Black
1994: W. F. O.
1996: The Killing Kind
1997: From the Underground and Below
1999: Necroshine
1999: Coverkill
2000: Bloodletting
2003: Killbox 13
2005: RELIXIV
2007: Immortalis
2010: Ironbound
2012: The Electric Age
2014: White Devil Armory
OVERKILL lineup:
Bobby "Blitz" Ellsworth, vocals
Dave Link, guitar
D.D. Verni, bass
Derek Tailer, guitar
Ron Lipnicki, drums