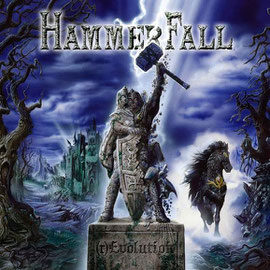 VÖ: 29.08.2014
Label: Nuclear Blast
Format: CD
Tracklist:
01. Hector's Hymn
02. (R)Evolution
03. Bushido
04. Live Life Loud
05. Ex Inferis
06. We Won't Back Down
07. Winter Is Coming
08. Origins
09. Tainted Metal
10. Evil Incarnate
11. Wildfire
Hammerfall melden sich mit ihrem neuen Album (r)Evolution zurück und geben wieder Gas. Nach dem eher schwächeren Album "Infected" kehren sie nun wieder zu den Wurzeln zurück und machen das, was sie gut können: Power Metal vom Feinsten.
Zwar erwartet den Hörer auch hier kein Evolutionssprung, ganz im Gegenteil: Gitarrist Oscar Dronjak und Sänger Joacim Cans setzen auf genau die gleiche musikalische und lyrische Herangehensweise wie schon in den Gründungszeiten der Band. Also erwartet uns ein Album wie in alten Zeiten. Das Cover wurde wieder von Andreas Marschall geliefert, der schon für viele Hammerfallcover verantwortlich war.
Der Opener ist eine typische Hammerfall Hymne mit dem Titel "Hector´s Hymn", welcher aber auch direkt zeigt wo uns die Reise hinführen wird. Dieser Song und die Singleauskopplung "Bushido" sind genau die Art von Songmaterial die Hammerfall auszeichnen und die Fans feiern lassen, die Gegner aber in den Wahnsinn treiben. In den 50 min. Spielzeit bekommt der Fan alles was er erwarten könnte, sei es der Hammerfall typische Stampfer "Ex inferis" und die Ballade "Winter is coming", wobei ich irgendwie an Game of Thrones denken mußte. Hammerfall machen da weiter wo sie 1997 mit ihrem Debutalbum "Glory to the brave" begonnen haben, welches ihnen beim Erscheinen in Fankreisen Heldenstatus verliehen hatte.
Aufgenommen wurde (r)Evolution in den Castle Black Studios unter der Regie von Fredrick Nordstöm, der auch für die ersten beiden Hammerfall Alben "Glory to the Brave" und Legacy of Kings" verantwortlich war.
Hammerfall erreichen zwar nicht das Niveau der ersten Alben, liefern aber seit "Chapter V: Unbowed, Unbent, Unbroken" ihr bestes Werk ab. Jeder Fan der Band kann also ohne Gewissensprobleme sofort zugreifen.
(Jan Heesch)
Das Album kann hier direkt bei Amazon gekauft werden.