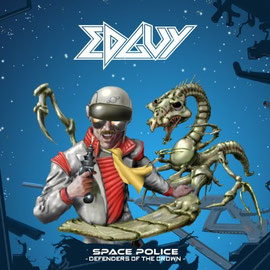 VÖ: 18.04.2014
Label: Nuclear Blast
Format: CD
Tracklist:
01. Sabre & Torch (5:00)
02. Space Police (5:59)
03. Defenders Of The Crown (5:39)
04. Love Tyger (4:26)
05. The Realms Of Baba Yaga (6:06)
06. Rock Me Amadeus (3:20)
07. Do Me Like A Caveman (4:09)
08. Shadow Eaters (6:08)
09. Alone In Myself (4:36)
10. The Eternal Wayfarer (8:50)
Edguy haben in ihrer seit über 20 Jahren laufenden Bandgeschichte schon einige Höhe- und Tiefpunkte durchlaufen, mit ihrem neuen Album versuchen sie wieder die alte Klasse zu erreichen, sie standen immer für den typischen europäischen Power Metal.
Nachdem die letzten beiden Alben nicht durchweg so zünden wollten wie die vorherigen, setzte man sich nun dran, das wieder zu ändern. Jede Menge Humor, etwas Pathos und schnittige Gitarrenriffs lassen auf das Kommende schliessen.
Ganz ohne Intro auskommend startet direkt der Opener "Saber & Torch", was einen etwas überrascht, aber auch direkt positiv einstimmt. Gefolgt von dem Titeltrack "Space police". Beide Tracks verfügen über leichte Trashelemente. Die Refrains gehen sofort ins Ohr. Nun folgt "Defenders of the crown", welches ein klassisches Edguy Stück ist. Es hätte ohne Probleme auf alte Alben der Band gepasst. Bei "Love Tyger" erwartet uns wieder der typische Edguy Humor, wie Fans ihn kennen und auch lieben. Er reiht sich neben "Lavatory love machine" und "King of fools" gut ein. Das Cover "Rock me Amadeus" fährt genau in der gleichen Schiene. Wer den Humor von Edguy nicht mag wird auch mit diesem Song nichts anfangen können. Das epische "The last Wayfarer" ist der Höhepunkt der zweiten Hälfte des Albums, ein eingängliche Refrain gepaart mit stimmungsvollen Gitarren erzeugen eine tiefe Atmosphäre..
"Space Police" ist ein sehr gutes Album geworden welches alle Facetten der Band birgt, ob man sie mag oder nicht. Jetzt müssen Edguy nur noch beweisen daß die Songs auch Live tauglich sind.
(Jan Heesch)
Das Album kann hier direkt bei Amazon gekauft werden.