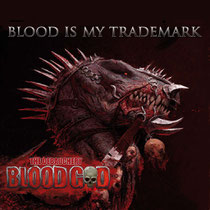 VÖ: 15.08.2014
Label: Massacre Records (Soulfood)
Format: 2CD
Nach "No brain but balls" ist "Blood is my trademark" das zweite Album von Blood God. Mit diesem Nebenprojekt huldigt Thomas Gurrath von Debauchery den Urvätern des Hard Rock und Heavy Metal. Er mischt die klassischen Klänge von Motörhead oder Iron Maiden mit den für Debauchery typischen Lyrics, es werden die typischen Klischees bedient und trotzdem hat das Werk durchaus Unterhaltungswert.
Wie schon eben erwähnt bewegen sich alle Stücke im klassischen Hard Rock und Heavy Metal Bereich und die Hommage an die großen Vorbilder sind nicht zu überhören. Thomas Gurrath zeigt hier daß er neben seinen Deathmetalgrowls auch eine rockige Stimme besitzt und weiß damit zu überzeugen. Bei den Texten kann man sich öfters ein Grinsen nicht verkneifen, alle Erwartungen bezüglich der Klischees werden voll erfüllt und stellen die Fans entsprechend zufrieden. Besonders ist mir die Nummer "Defenders of the throne of fire" im Gedächtnis geblieben, eine perfekte Nummer für einen Metalabend mit Freunden und jeder Menge Grillgut.
Wer auf klassische Hard Rock Riffs gewürzt mit einer großen Portion schwarzen Humor steht liegt hier genau richtig, die 10 Songs werden definitiv im Gedächtnis bleiben. Bei der Limited Edition gibt es noch eine Bonus Cd wo Thomas Gurrath alle 10 Songs im typischen Debauchery Stil growlt.
(Jan Heesch)
Das Album kann hier direkt bei Amazon gekauft werden.

Tracklist:
Disk: 1
01. Slaughterman
02. The Monstermaker
03. Defenders of the Throne of Fire
04. Warhordes from the Underworld
05. The Carnager
06. Sexy Music for Sexy People
07. Blood is my Trademark
08. World of Blood Gods
09. Mr. Kill
10. Dragonbeasts are rising
Disk: 2
01. Slaughterman
02. The Monstermaker
03. Defenders of the Throne of Fire
04. Warhordes from the Underworld
05. The Carnager
06. Sexy Music for Sexy People
07. Blood is my Trademark
08. World of Blood Gods
09. Mr. Kill
10. Dragonbeasts are rising
(With Debauchery Death Metal Monster Voice)