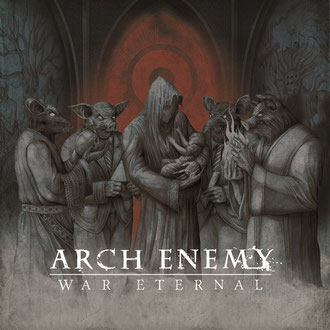 VÖ: 06.06.2014
Label: Century Media Records
Format: CD (Ltd. Edition)
Tracklist:
01. Tempore Nihil Sanat (Prelude in F minor) (1:12)
02. Never Forgive, Never Forget (3:43)
03. War Eternal (4:14)
04. As The Pages Burn (3:59)
05. No More Regrets (4:04)
06. You Will Know My Name (4:37)
07. Graveyard Of Dreams (1:09)
08. Stolen Life (2:58)
09. Time Is Black (5:22)
10. On And On (4:04)
11. Avalanche (4:37)
12. Down To Nothing (3:46)
13. Not Long For This World (3:28)
14. Shadow On The Wall (3:01)
Arch Enemy haben ihren Stil schon vor langem gefunden, ihre Alben klingen im Prinzip immer gleich, was sie vorhersehbar, aber auch massenkompatibel macht. Die Mischung aus Deathmetalgrowls und Powermetalriffs kommt bei den Fans aber gut an, nicht verkehrt wenn man als Band auch von der eigenen Musik leben will.
2011 steigt Christopher Ammott nach dem Album "Khaos Legions" aus, gefolgt von der Frontfrau Angela Gossow die Anfang 2014 auch austeigt. Die Band bleibt ihrem Konzept treu und holt sich als Nachfolgerin Alissa White-Gluz ins Boot, die vorher 10 Jahre bei "The Agonist" am Gesang tätig war. Keine leichte Aufgabe für die neue Sängerin da sie in große Fußspuren tritt.
Auf dem neuen Album "War Eternal" gibt es auch mit der neuen Sängerin keine großen Neuerungen ,man bekommt was man sich erhofft hat und wenn man die Band nicht gerade live vor sich auf der Bühne stehen sieht merkt man erstmal keinen Unterschied zu früher. Alle Ecken und Kanten sind weggebügelt, der Sound ist klar, die Arbeit wirkt wieder hochprofessionell und perfekt arrangiert, was sie aber auch leider etwas austauschbar wirken lässt. Die Band liefer dem Fan aber genau das was er erwartet und auch schon immer mochte, Metal bis der Nacken bricht. War "Khaos Legions" doch etwas schwächer geraten bekommen wir mit "War Eternal" wieder die volle Packung serviert. Die neuen Songs zünden sofort und sind fast ausnahmslos im oberen Tempobereich angesiedelt. Nur die Keybords stören teilweise das Gesamtbild. Leider muß ich aber auch zugeben daß mir kein einzelner Song wirklich im Gedächtnis geblieben ist, als Gesamtwerk überzeugt es trotzdem.
Im Großen und Ganzen ist das Album so geworden wie alle erhofft haben, die Band ist in Höchstform und man kann sich auf die Tour im Dezember freuen.
(Jan Heesch)
Das Album kann hier direkt bei Amazon gekauft werden.