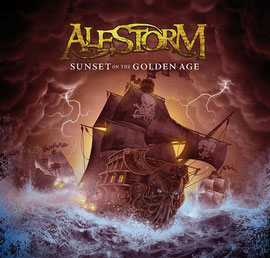 VÖ: 01.08.2014
Label: Napalm Records
Format: CD
Tracklist:
01. Walk The Plank (4:05)
02. Drink (3:22)
03. Magnetic North (3:46)
04. 1741 (The Battle Of Cartagena) (7:17)
05. Mead From Hell (3:40)
06. Surf Squid Warfare (3:58)
07. Quest For Ships (4:33)
08. Wooden Leg! (2:44)
09. Hangover (3:39)
10. Sunset On The Golden Age (11:25)
An Alestorm scheiden sich auch im vierten Studioanlauf die Geister. Während die einen nichts mit dem trinkfesten Piratenmetal anfangen können, loben die anderen die Schotten für ihre konsequent geführte Linie in den Himmel. So stehen Hymnen zum Mitsingen und harte Thrash-Riffs auf "Sunset On The Golden Age" an der Tagesordnung.
Auf ihrem neuen Album widmen Alestorm sich der Epoche zwischen 1690 bis ca. 1750, dem goldenen Zeitalter der Piraterie. Der Krieg mit den Briten in der Karibik liefert hier genug Material was ideal für ein Alestorm-Album ist...
Musikalisch hat sich bei den Schotten nicht viel verändert: sie bleiben bei ihrem Stil und nutzen nach wie vor ihre Stärke. "Walk the Plane" ist ein starker Opener, "Drink" hat leichte Trasheinflüsse und einen Refrain der Alestorm-typisch zum Mitsingen einlädt, während "Magnetic North" leichte Folkeinflüsse vorweist. Ein Großteil des Albums baut auf starke Refrains zum Mitsingen. Im Prinzip Stücke die auch live gut funktionieren und auch selbst mit 3 Promille für die Fans noch machbar sind. Der Song "1741 (The Battle Of Cartagena)" besticht durch musikalische Abwechslung, welche aber recht gewöhnungsbedürftig ist. Elektronische Töne am Anfang und Death Metal-Growls setzen diesen Song von den anderen ab. Mit dem Titelsong "Sunset On The Golden Age" erschaffen die Schotten ein elfeinhalb Minuten Epos was klar das Herzstück des Albums ist und den Zuhörer leicht in seinen Bann zieht.
Alestorm bleiben ihrem Stil treu, werden wohl aber nicht unbedingt viele neue Zuhörer finden. Dafür werden die alten Fans wohl wieder begeistert sein. Das neue Material wird sich gut in die alten Songs einfügen und live sicherlich für Freude sorgen.
(Jan Heesch)
Das Album kann hier direkt bei Amazon gekauft werden.