Vor der Veröffentlichung ihres weltweit euphorisch gefeierten Debütalbums im vergangenen Juli, hatten die aufstrebenden multi-kulti Blues Rocker BLUES PILLS einen Künstler-Wettbewerb ins Leben gerufen. Die Fans waren aufgefordert, ein Bild von einem Bandmitglied zu malen und ihre Kreationen einzuschicken. Nach akribischster Wühlarbeit durch Tonnen von E-Mails hat die Band das eine Bild gefunden, das am meisten heraus stach. Der Gewinner erhält ein großes BLUES PILLS-Fan-Paket mit dem Album auf Vinyl und CD, ein rares T-Shirt und wird die Band auf ihrer kommenden Tournee treffen. Herzlichen Glückwunsch an Vincent B. aus Frankreich!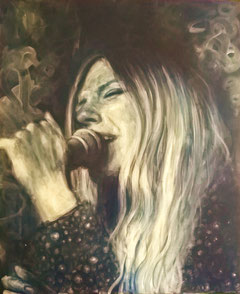 Dates sowie das Gewinner-Bild finden sich unten in dieser Mail.
Die Band kommentiert: "Thank you, all great people who have been painting pictures of us for the contest. It was a hard choice to choose the winner since all paintings where amazingly done. You are all winners of our hearts. Anyways one that stuck out of them is this piece made by Vincent from France and he won the contest. Congrats from us to you and thank you for the incredible painting. Enjoy your price, we'll have a beer together on tour! Rock on! Love, BLUES PILLS"
BLUES PILLS sind die erste Newcomer-Band in der Geschichte von Nuclear Blast, die die Top 10 knackt (das Album stieg in der ersten Verkaufswoche auf Platz #4 der deutschen Media Control Charts ein).
»Blues Pills« wurde vom renommierten Sound-Guru Don Alsterberg (GRAVEYARD, SOUNDTRACK OF OUR LIVES, THE (INTERNATIONAL) NOISE CONSPIRACY)produziert und am 25. Juli veröffentlicht. Seit acht(!) Wochen hält sich das Album noch immer erfolgreich in den Top100 der deutschen Verkaufscharts!
Mehr zu »Blues Pills«:
'Jupiter' lyric video: http://youtu.be/R5Evh8E3_oI
Offizielles 'High Class Woman' Musicvideo: http://smarturl.it/BLUES-PILLS-Woman
Selbstproduziertes 'Gypsy' Video: http://youtu.be/AFaqK1VShtk
Acoustic Straßen-Performance von 'No Hope Left For Me': http://ow.ly/zJLWy
Track by Track mit Elin Larsson: http://youtu.be/J-0JxpOo1dA
'High Class Woman' Gitarren-Workshop mit Dorian Sorriaux: http://smarturl.it/BPGuitarLesson
"Hammer Of Doom" Bonus live DVD trailer: http://youtu.be/sTnVPajBWHo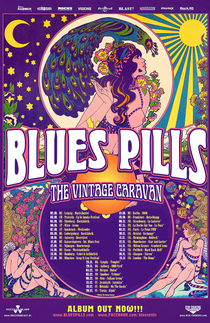 TOURDATES
BLUES PILLS
THE VINTAGE CARAVAN
THE ARKANES
presented by METAL HAMMER, ECLIPSED, ROCKS, VISIONS, METALNEWS.DE, BLAST!, NOIZELETTER, MUSIX & ROCK IT!
02.10.2014 - D – Leipzig, Moritzbastei !!!SOLD OUT!!!
03.10.2014 - CH – Pratteln, Up In Smoke Festival
04.10.2014 - D – Nürnberg, Rockfabrik !!!UPGRADED!!!
06.10.2014 - A – Vienna, Arena !!!UPGRADED!!!
07.10.2014 - A – Innsbruck, Weekender
08.10.2014 - D – Ludwigsburg, Rockfabrik !!!UPGRADED!!!
10.10.2014 - B – Antwerp, Desertfest
11.10.2014 - D – Kaiserslautern, Kammgarn International Blues Festival
13.10.2014 - NL – Nijmegen, Doornroosje
14.10.2014 - D – Essen, Weststadthalle !!!UPGRADED!!!
15.10.2014 - D – Hamburg, Übel & Gefährlich !!!UPGRADED!!!
17.10.2014 - D – München, Keep it Low Festival
18.10.2014 - D – Berlin, SO36 !!!UPGRADED!!!
19.10.2014 - D – Frankfurt, Batschkapp !!!UPGRADED!!!
06.11.2014 - F – Strasbourg, La Laiterie
07.11.2014 - F – La Roche sur Yon, Le Fuzz Yon
08.11.2014 - F – Paris, Le Point FMR
10.11.2014 - UK - Bristol, The Fleece
11.11.2014 - UK - Birmingham, The Oobleck
12.11.2014 - UK - Manchester, Star And Garter
14.11.2014 - UK - Milton Keynes, Crauford Arms
15.11.2014 - UK - Pwlheli, Hard Rock Hell
16.11.2014 - UK - Glasgow, Audio
18.11.2014 - UK - The Dome, London
28.11.2014 - DK - Lyngby, Templet
29.11.2014 - DK - Aalborg, 1000 Fryd
04.12.2014 - NO - Hulen, Bergen
05.12.2014 - NO - Sandnes, Tribute
06.12.2014 - NO - Oslo, Vulkan/Arena
18.12.2014 - FIN - Jyväskylä, Lutakko
19.12.2014 - FIN - Helsinki, On the Rocks
20.12.2014 - FIN - Turku, Klubi
»Blues Pills« kann unter folgendem Link in verschiedenen Formaten bestellt werden: http://media.nuclearblast.de/shoplanding/2014/Blues-Pills/blues-pills.html
BLUES PILLS online: