Die schwedische Death Metal Legende ENTOMBED A.D. hat gerade ihre Tour mit den ebenso legendären Kumpels von GRAVE gestartet! Und es gibt wohl keine bessere Art, euch zu zeigen, wie sehr sie Live killen, als mit dem brandneuen Video zum Song "Kill To Live" vom aktuellen Album "Back To The Front". Der Clip wurde vor ein paar Wochen beim Party-San Open Air von Oliver Barth (www.visions-in-fear.de) gedreht.
Guckst du hier: http://www.muzu.tv/entombed-ad/kill-to-live-official-video-video/2300696/
Wie ihr sehen könnt sind ENTOMBED A.D. wirklich zurück an der Front! Verpasst also nicht die Tour, bevor Europa in Schutt und Asche liegt.
Einen Tourtrailer mit LG von ENTOMBED A.D. und Ola von GRAVE gibt es noch hier: http://youtu.be/ZoPKncpb96g
ENTOMBED A.D. line-up:
L-G Petrov - Vocals
Nico Elgstrand - Guitars
Olle Dahlstedt - Drums
Victor Brandt - Bass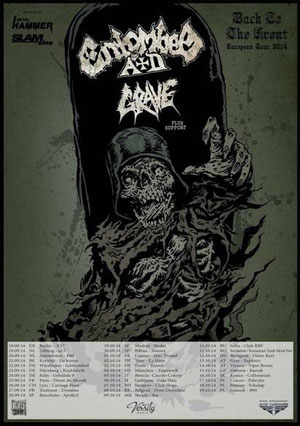 ENTOMBED A.D. - "Back To The Front" tour 2014 with GRAVE & support
18.09.2014 - D - Berlin, K17
19.09.2014 - NL - Tilburg, o13
20.09.2014 - NL - Amstelveen, P60
21.09.2014 - B - Kortrijk, De Kreun
22.09.2014 - D - Wiesbaden, Schlachthof
23.09.2014 - D - Nürnberg, Rockfabrik
24.09.2014 - D - Köln, Gebäude 9
25.09.2014 - F - Paris, Divan du Monde
26.09.2014 - CH - Lyss, Carnage Feast
27.09.2014 - F - Toulouse, tba
28.09.2014 - E - Bilbao, tba
29.09.2014 - E - Madrid, Shoko
30.09.2014 - E - Barcelona, Razzmatazz 2
01.10.2014 - F - Luynes, Le Korigan
02.10.2014 - D - Trier, Ex Haus
03.10.2014 - D - Essen, Turock
04.10.2014 - D - München, Backstage
05.10.2014 - I - Brescia, Circolo Colony
06.10.2014 - SLO - Ljubljana, Gala Hala
07.10.2014 - BYH - Sarajevo, Club Sloga
08.10.2014 - SRB - Belgrad, Dom Omladine
09.10.2014 - MK - Skopje, MKC
10.10.2014 - BU - Sofia, Club RBF
11.10.2014 - RO - Bucharest,Romanian Trash metal fest
12.10.2014 - HU - Budapest, Dürer Kert
13.10.2014 - A - Graz, Explosiv
14.10.2014 - A - Wien, Viper Room
15.10.2014 - SK - Bratislava, Randal
16.10.2014 - CZ - Prag, Nova Chmelnice
17.10.2014 - PL - Cracov, Fabryka
18.10.2014 - PL - Poznan, Eskulap
19.10.2014 - PL - Gdansk, B90
20.10.2014 - LIT - Vilnius, New York
21.10.2014 - LV - Riga, Melna Piektdiena
22.10.2014 - EE - Tallinn, Rockclub Tapper
23.10.2014 - FIN - Turku, Klubi
24.10.2014 - FIN - Tampere, Klubi
25.10.2014 - FIN - Helsinki, Nosturi
ENTOMBED A.D. with HANG THE BASTARD:
11.11.2014 - UK - Manchester, Roadhouse
12.11.2014 – UK - Glasgow, Audio
13.11.2014 - UK - Dublin, Voodoo Lounge
14.11.2014 – UK - London, Underworld
ENTOMBED A.D. live:
14-15.11.2014 - D - Weissenhäuser Strand, Metal Hammer Paradise
ENTOMBED A.D. online:
https://www.facebook.com/EntombedAD
GRAVE online: