Die legendären deutschen Thrasher DESTRUCTION müssen leider ihre Spanien-Shows absagen.
Die Booking-Agentur "NB-Touring" kommentiert wie folgt:
"Leider müssen wir schweren Herzens die kommenden 5 DESTRUCTION Shows in Spanien absagen. Der spanische Tour-Veranstalter hätte bereits vor mehreren Wochen eine Anzahlung zur Finanzierung der An- und Abreise aller Band- und Crew Mitglieder leisten müssen. Trotz mehrfacher Nachfrage und immer wieder neuen Versprechungen haben wir keinerlei Zahlungen erhalten und konnten daher bis heute noch keine Flüge für die Shows buchen. Wir arbeiten derzeit mit Hochdruck an Ersatz-Shows für alle spanischen Destruction-Fans und hoffen, diese bald bekannt geben zu können...."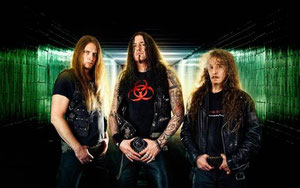 Mastermind "Schmier" fügt hinzu:
"Wir sind bitter enttäuscht, nächste Woche nicht nach Spanien kommen zu können. Ohne jegliche Vorauszahlungen für Transport und Flüge, ist es uns unmöglich zu reisen. Der Veranstalter hielt sich weder an den Vertrag noch an die Versprechungen, doch am schlimmsten ist es, dass sich die spanischen Metalheads gleich wie die Band derart darauf gefreut haben, nach so vielen Jahren der Abwesenheit endlich wieder nach Spanien zurück zu kehren. Wir werden sicher gehen, dass unser neuer Partner sämtliche Shows der Iberischen Halbinsel 2015 berücksichtig. Salud & thrash till death!!!"
Das aktuelle DESTRUCTION Album, das 2012er Werk »Spiritual Genocide«, könnt ihr unter folgendem Link bestellen: http://smarturl.it/DestructionCD
DESTRUCTION online:
---
DESTRUCTION starten ihre Thrash United 2014 Tour nächste Woche
Die legendären deutschen Thrasher DESTRUCTION starten nächste Woche ihre Thrash United Tour. Gemeinsam mit dem Trio unterwegs sein, werden zwei der vielversprechendsten Acts der aktuellen Thrash / Speed Metal Szene: Die finnischen Labelkollegen LOST SOCIETY sowie die belgischen Newcomer EVIL INVADERS.
Dazu DESTRUCTION Frontmann Schmier: "Nach zahlreichen Weltumrundungen und tollen Festivaltouren, sind wir endlich wieder einmal als Headliner in Europa unterwegs! Natürlich freuen wir uns sehr ein "Best of 30 years" ohne Zeitlimit präsentieren zu dürfen, was ja auf den auf meistens Festivals leider nicht möglich ist. Mit LOST SOCIETY & EVIL INVADERS haben wir zwei blutjunge und sensationelle Opening Acts mit dabei, die jeden Abend dem Publikum ordentlich den Arsch versohlen werden! Dieser CLASH der Generationen serviert Euch einen Abend mit einer exzessiven Thrash & Speed Metal Schlachtplatte vom allerfeinsten! Ich hoffe ihr seid noch HUNRIG!!!"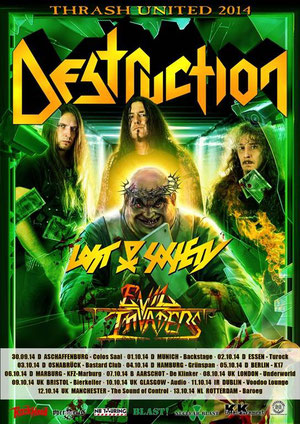 Erlebt die Thrash-Attacke bei den folgenden Terminen:
30.09.2014 - D - Aschaffenburg, Colos,Saal
01.10.2014 - D - Munich, Backstage
02.10.2014 - D - Essen, TuRock
03.10.2014 - D - Osnabrück, Bastard Club
04.10.2014 - D - Hamburg, Grünspan
05.10.2014 - D - Berlin, K17
06.10.2014 - D - Marburg, KFZ-Marburg
07.10.2014 - B - Aarschot, De Klinker
08.10.2014 - UK - London, Underworld
09.10.2014 - UK - Bristol, Bierkeller
10.10.2014 - UK - Glasgow, Audio
11.10.2014 - UK - Dublin, Button Factory
12.10.2014 - UK - Manchester, The Sound of Control
13.10.2014 - NL - Rotterdam, Baroeg
Präsentiert von: Rock Hard, metalnews.de, Blast!, NB-Touring, KK-Entertainment, Nuclear Blast
18.10.2014 - F - Sélestat, Rock Your Brain Out Festival*
05.11.2014 - E - Erandio, Sala Sonora*
06.11.2014 - E - Burgos, Sala Hangar*
07.11.2014 - E - Avilés, Sala Quattro*
08.11.2014 - E - Zaragoza, Teatro de las Esquinas*
09.11.2014 - E - Valencia, Sala Agora Live*
*nur DESTRUCTION!
Das aktuelle DESTRUCTION Album, das 2012 Werk »Spiritual Genocide«, könnt ihr unter folgendem Link bestellen: http://smarturl.it/DestructionCD
DESTRUCTION online: