Das mit Spannung erwartete zweite Album "Sex in The Seventh Circle" von HANG THE BASTARD wurde jetzt via Century Media veröffentlicht. Produziert von Steve Sears in den Titan Studios in London (Gallows, Spycatcher) kombiniert mit der Kunst von Daniel P Carter, der das Artwork kreiert hat, verspricht "Sex In The Seventh Circle" einen Stempel in der Musikszene zu hinterlassen.
Die Band sagt folgendes dazu: "We are beyond excited for the release of this album. It's been over a year in the making and it feels like the album we always wanted to make as a band, we cannot wait for others to share this with us."
"Sex In The Seventh Circle" ist in folgenden Formaten erhältlich:
- Ltd Edition, CD Digipack (inkl. 2 Bonustracks)
- 180g Gatefold black Vinyl + CD
- 180g Gatefold red Vinyl + CD (limitiert auf 600 Stück)
Alle physischen Formate kann man hier kaufen: http://smarturl.it/HTBCMDistro
Hier sind ein paar Reviews zu "Sex In The Seventh Circle":
"Die Londoner Band hat sich gefunden. Ihr Sludge Metal konzentriert sich auf Dynamik und mitreißendes Riffing. Das reicht für ein echtes Genre-Juwel." VISIONS
"Hang The Bastard sind verdammt wütende Bastarde. Auf Langeisen Zwei werfen die Londoner ein ganzes Arsenal hässlicher, roher, blutiger Gedärme in den Häcksler. Unheilschawangere Doom-Riffs, schwarzmetallisches Keifer, Hardcore-Wut und Stoner-Dreck formen einen tonnenschweren Sludge-Brocken, der kaum Luft zum Atmen lässt." – Piranha
"Sex In The Seventh Circle' nimmt Sludge und Doom und verbindet sie mit Elementen aus dem Stoner-, Crust- und Punk-Bereich. Mit ausgeprägter DIY-Attitüde und einem rohen, martialischen Basis-Sound zelebrieren die Musiker ihre Riff-basierte, abgefuckte und im Ergebnis eigenständige Interpretation der Underground-Heavy-Sparte." – FUZE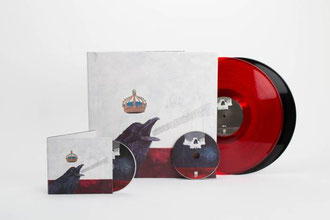 "Sex In The Seventh Circle" Tracklist:
01. Keeping Vigil
02. Morrs Tempest
03. Hornfel
04. The Lesser Key
05. The Majestic Gathering Of Goetia
06. Mist Of Albion
07. Sex In The Seventh Circle
08. Snake Symbol
09. Absorption
10. Beyond The Pale
11. Sweet Mother
Hier kann man sich das Video zu "Sex In The Seventh Circle" anschauen: http://www.muzu.tv/hang-the-bastard/hang-the-bastard-sex-in-the-seventh-circle-official-video-musikvideo/2273395/
HANG THE BASTARD live:
23.09.2014 - UK - Bristol, Thekla*
24.09.2014 - UK - Glasgow, Classic Grand*
25.09.2014 - UK - Birmingham, O2 Academy2*
26.09.2014 - UK - London, Islington Academy*
27.09.2014 - UK - Manchester, Club Academy*
11.11.2014 - UK - Manchester, Roadhouse**
12.11.2014 - UK - Glasgow, Audio**
13.11.2014 - IRE - Dublin Voodoo Lounge**
14.11.2014 - UK - London, Underworld**
*mit KING 810
** mit Entombed A.D.
HANG THE BASTARD online:
www.facebook.com/hangthebastard
www.twitter.com/hangthebastard
Century Media online:
Century Media webshop: