Die aus Ohio stammende Hardcore/Metal Band ENABLER hat einen weltweiten Vertrag bei Century Media Records unterschrieben.
Unter der Leitung von Frontmann, Songwriter und Gitarrist Jeff Lohrber, sind ENABLER ein Paradebeispiel für extrem angepissten, metallischen Hardcore, der auch Elemente aus dem Thrash und Death Metal integriert und mit einer punkig-rotzigen Attitüde mischt.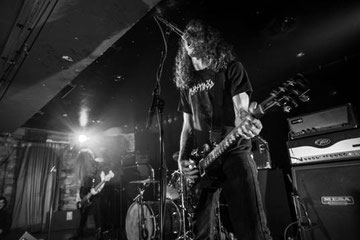 Seit ihrer Debüt-EP "Eden Sank to Grief" 2010, die via Andy Hurleys (Fall Out Boy, Raicetrator) FC Records veröffentlicht wurde, hat sich die Band durch ihren einzigartigen Sound viele Freunde gemacht.
Ihre Diskografie umfasst mittlerweile zwei Alben, darunter das via Southern Lord veröffentlichte Breakthrough-Album "All Hail The Void", drei EPs, diverse Split- und Samplerbeiträge und ihr zweites Opus "La Fin Absolue Du Monde" erscheint nun erweitert um Bonustracks am 5. Dezember 2014!
Der Albumtitel basiert auf dem Film "Cigarette Burns" von John Carpenter. Die Aufnahmen zum Album erfolgten im Dezember 2013 bei Shane Hotchstetler / Howl Street Recordings (Expire, Northless) und gemastert wurde das Album von Steve Austin von Today Is The Day bei Austin Enterprise (Lamb Of God, Converge, Deadguy). Das atemberaubende Artwork stammt von Chris Smith vom Gray Aria Design. Das Line-Up auf "La Fin Absolue Du Monde" besteht aus Lohrber (Sänger/Gitarrist), Amanda Daniels (Bass, Backing Vocals) und Ryan Steigerwald (Schlagzeug).
ENABLER spielten 2012 bei Century Medias SXSW Showcase (mit The Atlas Moth, Young And In The Way und anderen) und blieben danach im engen Kontakt mit dem Label. Nach Erscheinen von "La Fin Absolue Du Monde" machte Century Media Records der Band ein Angebot und kurz darauf wurden Pläne für die Veröffentlichung des Zweitwerks in Europa geschmiedet. Lohrber ging zurück ins Howl Street, um einige Bonussongs aufzunehmen und einen der neuen Songs - "Mortal Enemy" – könnt ihr jetzt auf Soundcloud hören: https://soundcloud.com/centurymedia/enabler-mortal-enemy
"La Fin Absolue Du Monde (European Version)" Tracklist:
01. Close My Eyes
02. New Life
03. Neglect
04. I've Got A Bad Feeling About This
05. Information Overload
06. Balance of Terror
07. World Sterilization
08. The Exiles
09. Prey
10. Sickened By The Wake
11. Rain Darkness
12. Felony
13. Linear Existence
14. Consequence
15. Live Low *
16. Mortal Enemy *
17. Seekers of the Truth (Cro-Mags Cover) *
* Bonustracks
ENABLER line-up:
Jeffrey Lohrber – guitars, vocals
Amanda Daniels – bass, backing vocals
Ryan Steigerwald – drums
ENABLER online:
https://www.facebook.com/enablerband
Century Media Records online:
Century Media webshop: