Eine erstickende Finsternis verdunkelt die Welt mit der Wiedergeburt von SOULBURN...
Ursprünglich entstanden SOULBURN nach dem zwischenzeitlichen Ableben der holländischen Death Metal Legende Asphyx Mitte der 90er, als die Gründungsmitglieder Eric Daniels (Gitarre) und Bob Bagchus (Schlagzeug) nach einer neuen musikalischen Spielwiese suchten, um ihrer gemeinsamen Leidenschaft für Bathory, Venom, Celtic Frost und urzeitlichen Death Metal zu frönen. Nach einem Demo und dem Kult-Album "Feeding On Angels", 1998 via Century Media Records erschienen, mit Wannes Gubbels (Pentacle) als Sänger/Bassist, wurden SOULBURN wieder ad acta gelegt und schienen eine reine Übergangsformation gewesen zu sein, die zur kurzzeitigen Rückkehr von Asphyx im selben Line-Up und dem "On The Wings Of Inferno" Album im Jahr 2000 geführt hat.
SOULBURN waren tot, begraben, aber nicht vergessen…
Und nun, 16 Jahre nach ihrem Debüt-Album, kehrt die tiefschwarze Death-Metal-Handelsflotte zurück an die Oberfläche, einen neuen, weltweiten Plattenvertrag mit Century Media Records in der Tasche und mit leicht verändertem Line-Up, das erneut im Kern aus Eric Daniels (Gitarre) und Bob Bagchus (Drums) besteht, unterstützt von Twan van Geel (Flesh Made Sin, Legion Of The Damned) als Sänger/Bassist und Remco Kreft (Grand Supreme Blood Court, Nailgun Massacre, Xenomorph) als zweitem Gitarristen.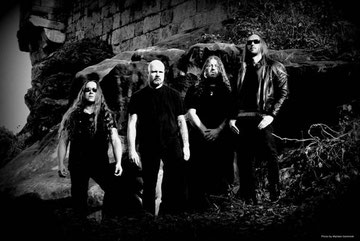 SOULBURNs Drummer und Gründer Bob Bagchus ließ über ihre Rückkehr folgendes verlauten: "SOULBURN zu reanimieren war nur naheliegend, die Inspiration war riesig, größer als jemals zuvor. Die alten Songs wieder zu spielen und die neuen Stücke dazu, das ist mehr als eine Bestätigung. Die Riff-Ideen – und somit die Songs – hörten nicht auf zu reifen und wir wussten, dass wir auf dem richtigen Weg waren. Der neue Deal mit unserem langjährigen Label Century Media Records war der nächste logische Schritt…".
SOULBURNs zweites Studio-Album, "The Suffocating Darkness", erscheint am 14. November 2014 bei Century Media Records. Das Album wurde von Harry Wijering (Harrow Productions) aufgenommen, von Dan Swanö (Unisound Recordings) gemixt und gemastert und das Artwork stammt von Timo Ketola sowie Roberto Toderico.
SOULBURN werden in ihrer neuen Inkarnation auch live debütieren, beginnend an diesem Wochenende, wo sie drei exklusive und lange ausverkaufte Shows mit den Old-School-Death-Metal-Weggefährten Bolt Thrower und Morgoth in Deutschland spielen. Ein weiterer Auftritt bei der 2015er Ausgabe des Neurotic Deathfest wurde ebenfalls schon bekannt gegeben. Hier eine Übersicht aller kommenden SOULBURN-Termine:
SOULBURN live + Bolt Thrower & Morgoth:
21.09.2014 - D - Bremen, Schlachthof * Ausverkauft!
22.09.2014 - D - Essen, Weststadthalle * Ausverkauft!
23.09.2014 - D - Berlin, SO36 * Ausverkauft!
SOULBURN live 2015:
17.-19.04.2015 - NL - Tilburg (The Netherlands) - 013 / Neurotic Deathfest
(+ Bloodbath, Immolation, Benighted, Tribulation und viele mehr. http://www.neuroticdeathfest.com)
Weitere SOULBURN-Shows werden in Kürze bekannt gegeben…
Weitere Details über "The Suffocating Darkness" und erste Sound-Samples werden in den kommenden Wochen verfügbar sein. Stay tuned…
SOULBURN Line-Up:
Twan van Geel - vocals/bass
Remco Kreft - guitar
Eric Daniels - guitar
Bob Bagchus - drums
Diskografie:
Soulburn (Demo) – 1996
Feeding On Angels– 1998
The Suffocating Darkness – 2014
SOULBURN online: