Die letzten News zu den schwedischen Death Metal Veteranen von THE CROWN sind schon eine Weile her. Aber gut' Ding will bekanntlich Weile haben.
Century Media sind sehr stolz, die Veröffentlichung von "Death Is Not Dead", dem mittlerweile achten Studioalbum von THE CROWN, für den 9. Januar verkünden zu dürfen. Einen Vorgeschmack gibt es bereits am 27. Oktober. An diesem Tag erscheint nämlich die 7inch "Headhunter", welche einen brandneuen Track namens "Headhunter" enthält, sowie eine Coverversion des Napalm Death Klassikers "Unfit Earth" (im Original auf dem ND Album "Harmony Corruption"). Außerdem haben THE CROWN eine schicke neue Website am Start, auf der man weitere Infos zum Album findet und ein kurzes Sample aus "Headhunter" hören kann, also besucht: http://www.thecrownofficial.com/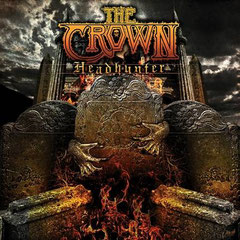 Die "Headhunter" EP wird selbstverständlich auch digital veröffentlicht. Der Vorverkauf der 7inch startet am 29. September. Guckt mal bei www.cmdistro.com rein und haltet Ausschau nach einer streng limitierten EP Version in farbigem Vinyl.
THE CROWN line-up:
Johan Lindstrand – vocals
Marko Tervonen – guitars
Magnus Olsfeld – bass
Robin Sörqvist – guitars
THE CROWN online:
https://www.facebook.com/thecrownofficial