Die niederländischen Death/Thrash Metal Veteranen von THANATOS veröffentlichen am 14.11. ihr brandneues Studioalbum "Global Purification". Da Stephan Gebédi (Gitarre, Gesang) und Paul Baayens (Gitarre) in den letzten Jahren mit Hail Of Bullets und Asphyx stark eingespannt waren, war es zuletzt recht ruhig geworden um die wahrscheinlich dienstälteste niederländische Metal-Band. 2014 ist jedoch das 30-jährige Jubiläum THANATOS' und markiert die Rückkehr der Band zu alter Stärke. Und womit ließe sich ein solches Ereignis besser feiern als mit der Veröffentlichung des finstersten, gnadenlosesten und zugleich reifsten Albums der Bandgeschichte? "Global Purification" enthält 10 Songs von vernichtender Intensität und erinnert an eine Zeit, als Metal noch Grenzen und Regeln durchbrochen hat, anstatt sie zu erschaffen!
THANATOS haben Euch mit dem Albumtrack "Feeding The War Machine" schon mal einen ersten Teaser bei Soundcloud online gestellt. Wer Bock auf ein bisschen musikalische Niedertracht aus den Niederlanden hat, der klickt hier: https://soundcloud.com/centurymedia/thanatos-feeding-the-war-machine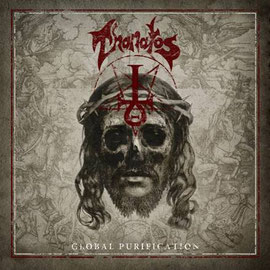 "Global Purification" wird als CD, limitiertes Digipak, LP und digitales Album veröffentlicht.
THANATOS line-up:
Stephan Gebédi – vocals, guitars
Paul Baayens – guitars
Marco de Bruin – bass
Yuri Rinkel – drums
THANATOS live:
15.11.2014 - NL - Katwijk, Scream Bloody Scum Fest, Scum (inofficial CD-release-party)
Dec 13.12.2014 - NL - Eindhoven, Eindhoven Metal Meeting
10.01.2015 - D - Essen, Turock
THANATOS online: