STEEL PANTHER KÜNDIGEN IHRE BISHER GRÖSSTE DEUTSCHLAND-TOUR AN
HALLEN-SHOWS IN HAMBURG, BERLIN, KÖLN, WIESBADEN, MÜNCHEN IM MÄRZ
ALLGEMEINER VVK-START AM 20. SEPTEMBER
Sie bleiben die rühmliche Ausnahme in der Wegwerfmentalität der heutigen Musikindustrie: Die Hollywood-Legenden Steel Panther hören nicht auf, sich über ihre Entwicklung als Künstler zu definieren. Nach ausverkauften Konzerten kündigt die US-Rock-Band ihre bisher größten Konzerte in Deutschland an. Im März 2015 kommen Michael Starr, Satchel, Lexxi Foxx und Stix Zadinia für fünf Hallen-Shows zurück nach Deutschland, um ihre deutschen Fans erneut in den 7. Rock-Himmel zu führen. Im Rahmen ihrer All You Can Eat Tour 2015 spielen Steel Panther am 19. März in Hamburg im Docks, am 24. März in Berlin in der Columbiahalle, am 25. März in Köln im E-Werk, am 26. März in Wiesbaden im Schlachthof und am 28. März in München im Zenith. Tickets gibt es ab Samstag, den 20. September an den bekannten Vorverkaufsstellen, unter der bundesweiten Tickethotline 01806 / 999 000 555 (0,20 EUR/Verbindung aus dt. Festnetz / max. 0,60 EUR/Verbindung aus dt. Mobilfunknetz) oder im Internet unter www.ticketmaster.de. Bereits ab Mittwoch, den 17. September bieten Ticketmaster und CTS Eventim Presales an. Informationen zu besonderen VIP-Angeboten mit Meet and Greet-Möglichkeit und vielen anderen Extras gibt es ab dem 16. September unter www.SteelPantherRocks.com/VIP.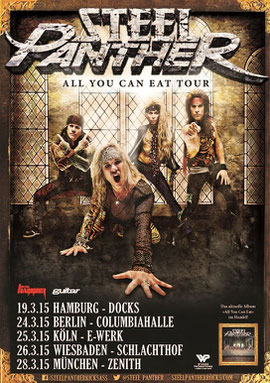 Mit ihrem letzten Album All You Can Eat erreichten Steel Panther die höchsten Chartpositionen ihrer Karriere. In Deutschland landete das Album im April 2014 auf Platz 15, in Österreich auf Platz 13, in der Schweiz auf Platz 22, in Großbritannien auf Platz 12 und in den USA auf Platz 24 der jeweiligen Landes-Charts. Im Herbst supporten sie die Heavy Metal-Legende Judas Priest auf deren US-Tour.
Steel Panther waren lange Zeit das bestgehütete Geheimnis der Rockszene, mit Kultstatus in LA. Aber mit den Erfolgen ihrer Alben (die alle direkt auf Platz 1 der Billboard Comedy Album-Charts landeten) und ihren unglaublichen Liveshows hat sich die Band mittlerweile mehr als etabliert. Mit Steel Panther gemeinsam auf einer Bühne zu stehen, kommt einem Ritterschlag gleich und viele Rock-Ikonen haben die Gelegenheit schon genutzt: Steven Tyler von Aerosmith, Paul Stanley von KISS, Corey Taylor von Slipknot/Stone Sour, Tom Morello von Rage Against The Machine/Audioslave, Chester Bennington von Linkin Park/Stone Temple Pilots, Green Day, Kelly Clarkson, Pink, Billy Ray Cyrus und sogar Walt Jr (bekannt aus der US-Serie Breaking Bad). Steel Panther sind auch im US-TV sehr präsent, traten bei Dancing With The Stars und Bad Girl's Club auf und beteiligten sich an der Online-Kampagne für den Kult-Film Rock Of Ages.
STEEL PANTHER - All You Can Eat Tour 2015
19.03.2015 Hamburg, Docks
24.03.2015 Berlin, Columbiahalle
25.03.2015 Köln, E-Werk
26.03.2015 Wiesbaden, Schlachthof
28.03.2015 München, Zenith
STEEL PANTHER online:
www.facebook.com/steelpantherkicksass
instagram.com/steelpantherkicksass