In Zusammenarbeit mit der Website des Visions Magazins hat die New York Hardcore Legende SICK OF IT ALL ein Lyricvideo für den Song "DNC" gepostet. Für den Song selbst und die Texte des Songs, dessen kompletter Titel "DNC (Do Not Comply)" lautet, klicke man hier: http://www.visions.de/news/21386/Sick-Of-It-All-stellen-Lyric-Video-zu-DNC-bei-VISIONS-vor
"Last Act Of Defiance", das am 26. September 2014 erscheint, ist in den folgenden Formaten erhältlich: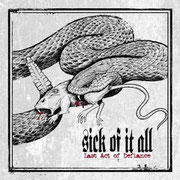 - Ltd. Edition Digipak (inkl. Patch, 2 Bonustracks)
- LP + das komplette Album auf CD
- CD Jewelcase
- Digital Album (inkl. 2 Bonustracks)
Sichert man sich die digitale Ausgabe des Albums, bekommt man die Songs "Road Less Traveled" und "DNC" sofort – digital zuzuschlagen lohnt sich also:
iTunes: http://smarturl.it/soiaiTUNES
amazon: http://smarturl.it/soiaAMAZONMP3
Natürlich gibt es "Last Act Of Definance" auch zum Anfassen, u.a. hier:
- emp.de: limitiertes rotes Vinyl + CD und/oder Bundles (das Ltd. Edition Digipak oder limitiertes rotes Vinyl + CD gibt es u.a. zusammen mit feschen Shorts), die aufgrund der limitierten Anzahl sicher schnell ausverkauft sein werden: http://www.emp.de/brand/sick-of-it-all/lis_Sick%20Of%20It%20All_bandbrand/
- cmdistro.de: limitiertes transparent orangenes Vinyl + CD: http://www.cmdistro.de/Search?q=the+last+act+of
Nachdem sie im Sommer eine Reihe von (Festival) Dates in Europa gespielt haben, werden SICK OF IT ALL die EMP Persistence Tour Anfang 2015 headlinen – die perfekte Tour, um "Last Act Of Defiance" live zu präsentieren.
EMP Persistence Tour 2015
SICK OF IT ALL
mit Ignite, Walls Of Jericho, Rykers, Turnstile, All For Nothing, Broken Teeth
15.01.2015 - D - Berlin, Astra
16.01.2015 - D - Hamburg, Grosse Freiheit 36
17.01.2015 - D - Oberhausen, Turbinenhalle
18.01.2015 - F - Paris, Bataclan
19.01.2015 - NL - Utrecht, Tivoli
20.01.2015 - D - Wiesbaden, Schlachthof
21.01.2015 - CH - Pratteln, Z7
22.01.2015 - D - München, Backstage Werk
23.01.2015 - CZ - Ostrava, Trojhali Karolina
24.01.2015 - D - Dresden, Eventwerk
25.01.2015 - B - Deinze, Brielpoort
"Last Act Of Defiance" entstand zusammen mit ihrem Freund und mittlerweile Haus und Hof Produzenten Tue Madsen im Nova Studio in Staten Island, NY und wurde im Antfarm Studio in Dänemark gemixt.
Alle Dates und News gibt es immer brandaktuell online auf
sickofitall.com oder facebook.com/sickofitallny.
SICK OF IT ALL online:
www.facebook.com/sickofitallny