Death Metal Fans, aufgepassst! Ab sofort könnt Ihr die Neuauflage von MORGOTH Klassiker "Odium" (ursprünglich 1993 veröffentlicht) sowie die erste offizielle Version des ersten Demos der Band, "Pits Of Utumno", erwerben!
Das Re-Issue von "Odium" kommt mit überarbeitetem Cover und Layout, einigen alten Fotos, allen Lyrics (die im Original nicht mit abgedruckt wurden) und einem sehr umfangreichen Interview mit Marc Grewe und Sebastian Swart. Das Album wurde von Patrick W. Engel (u.a. Asphyx, Dissection, Grave, Exumer) remastert. Für die LP Version wurde ein spezielles Vinyl-Master benutzt.
"Odium" wird als CD, LP und Digitaler Download veröffentlicht. Für die Sammler gibt es eine auf weltweit nur 300 Stück limitierte LP Version in orangem Vinyl.
"Pits Of Utumno" erschient 1988 als Demo Tape. Diese wegweisende Tape ebnete MORGOTH den Weg zum Death Metal Olymp. 26 Jahre später kommt nur die erste offizielle Neuauflage mit neuen Layouts und einem sehr lesenswerten Interview mit MORGOTHs Original-Drummer Rüdiger Hennecke. Der Sounds wurde ebenfalls von Patrick W. Engel remastert. "Pits Of Utumno" gibt es als 12inch MLP sowie als Digitalen Download. 300 Einheiten der MLP kommen in weißem Vinyl.
"Odium" und "Pits Of Utumno" können ab sofort hier bestellt werden: http://smarturl.it/morgothCMDistro
MORGOTHs 7inch "God Is Evil" (mit zwei brandneuen Studiotracks!) ist momentan ausverkauft, wird jedoch in den nächsten Tagen wieder erhältlich sein.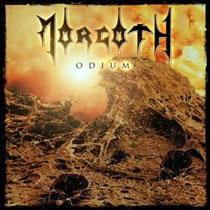 "Odium" tracklisting:
01. Resistance (04:50)
02. The Art Of Sinking (03:33)
03. Submission (05:13)
04. Under The Surface (05:22)
05. Drowning Sun (05:13)
06. War Inside (04:40)
07. Golden Age (07:13)
08. Odium (06:15)
09. Resistance (Live)* (04:47)
10. Under The Surface (Live)* (05:09)
* CD/Digital-only bonus tracks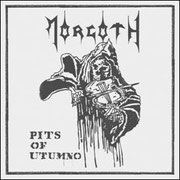 "Pits Of Utumno" tracklisting:
Side 1
01. From Dusk To Dawn (05:36)
02. Being Boiled (04:04)
03. Eternal Sanctity (02:12)
Side 2
01. Pits Of Utumno (04:34)
02. Beyond (03:04)
03. Dance Their Dance (02:20)
MORGOTH werden die neuen Veröffentlichungen selbstverständlich auch auf der BOLT THROWER Tour anbieten. Aber Achtung: Die Tickets für die meisten Shows sind restlos ausverkauft.
MORGOTH Line-Up:
Marc Grewe – Vocals
Harry Busse – Lead & Rhythm Guitars
Sebastian Swart – Rhythm Guitars
Sotirios Kelekidis – Bass
Marc Reign – Drums
MORGOTH Discography:
Resurrection Absurd EP (1989)
Eternal Fall EP (1990)
Cursed (1991)
Odium (1993)
Feel Sorry For The Fanatic (1996)
1987 - 1997 The Best Of Morgoth Compilation (2005)
Cursed To Live (2012)
God Is Evil Single (2014)
MORGOTH Online:
www.facebook.com/MorgothOfficial