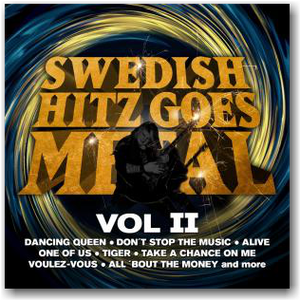 VÖ: 25.09.2014
Label: DooLittle Group AB
Format: CD
Tracklist:
01. Dancing Queen (ABBA)
02. Don´t Stop The Music (ROBYN)
03. Alive (DA BUZZ)
04. One Of Us (ABBA)
05. Tiger (ABBA)
06. Does Your Mother Know (ABBA)
07. Rock Me (ABBA)
08. Voulez-Vous (ABBA)
09. Take A Chance On Me (ABBA)
10. All About The Money (MEJA)
11. Euphoria (LOREEN)
12. My Favourite Game (THE CARDIGANS)
Wer das 2011er Erstlingswerk der Schweden nicht kennt, braucht nicht zu meinen, dass bei diesem Album ein nordischer J.B.O.-Abklatsch entstanden ist.
Die Musik ist durchaus seriöser Heavy Metal - nur eben in Form von 'in Metal gecoverten, schwedischen Hitz'. Was darf dabei natürlich auf keinen Fall fehlen? ABBA - richtig! Und davon gibt es gleich mehrere Stücke auf "Volume II".
Gleich zu Beginn der Einstieg mit "Dancing Queen", der irgendwie gleichermaßen zum Headbangen als auch zum Tanzen animiert. Die folgenden "Don't Stop The Music (Robyn)" und "Alive (Da Buzz)" kennt man genauso wie die nächsten Stücke, die so aneinander gereiht in der Tracklist, schon eher an eine ABBA-Cover-Compilation oder ähnliches denken lassen, aber das ist nun mal auch eine der bekanntesten und erfolgreichsten Bands aus Schweden (gewesen). Die Schlusslichter des Albums, "All About The Money (Meja)", "Euphoria (Loreen)" und "My Favourite Game (The Cardigans)", runden das gesamte Werk schließlich ab.
Black, Death oder Trash sucht man hier genauso vergeblich wie alle anderen härteren Arten des Metal. Dafür gibt es allerdings sehr guten Heavy Metal auf die Ohren, und das passt ja irgendwie auch besser zu den ausgewählten Stücken wie harte Screams oder gar Growls...
Starke Gitarrenriffs, gut arrangierten Keys, da, wo sie hingehören und die Drumms, mal Uptempo, mal Midtempo stimmen sich gänzlich ineinander ein.
Die klare, kräftige Stimme von Sänger Tommy ReinXeed passt richtig gut zu allen Songs, ob Ballade oder (etwas) mehr Power. Hier hat man eine CD, die auch auf jeder Metal-Party oder Live auf Festivals für ordentlich Stimmung sorgen kann, denn, die Songs kennt ja eigentlich doch jeder!
Man darf also hoffen, dass die Band auch bald wieder auf Tour kommen wird. Für alle Veranstalter unter euch: die Booking-Kontakte stehen hier: http://divinefire.net/swedishhitz/contact

Fazit: Das Album macht Spaß und ordentlich gute Laune. Es darf also beherzt zugegriffen werden!
(Sarah Jacob)
Das Album kann hier direkt bei Amazon gekauft werden.

Lineup:
Tommy ReinXeed - Vocals & Guitars
Andreas Habo Johansson - Drums
Anders Berlin - Keyboards & Vocals
Sebastian Roos - Bass & Vocals
Johan Axelsson - Guitar & Vocals