"Ein übergreifender Mix aus 70er Rock-Kante und 80er Punk-Wut", so der Rolling Stone vor einiger Zeit: "so klängen Black Sabbath, wenn sie eine anständige Sonnenbräune und eine ganze Flotte von Strandbuggies zu Verfügung hätten…der ultimative Wüstenrock". Und diese Zuschreibung der alten Stoner-Rock-Helden Fu Manchu trifft es immer noch ganz gut.
Mit "Gigantoid" ist vor einigen Wochen endlich auch ein neues Werk des Quartetts erschienen, nachdem man sich fünf Jahre lang Zeit gelassen hatte.
Seit dem letzten Studiowerk "Signs Of Infinite Power" (2009) war die Band fast permanent auf Tour, auch in deutschen Clubs, wo man in 2 Touren die alten Fu-Manchu-Klassiker "In Search Of..." (1996) und "The Action Is Go" (1997) unter großem Jubel der Fangemeinde aufgeführt hatte.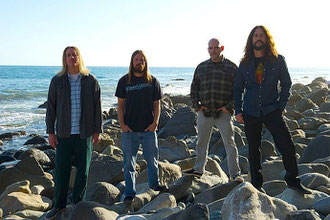 Nun also endlich wieder neues Material der Band um die beiden Songschreiber Scott Hill und Bob Balch. Die neuen Songs entstanden dabei, wie alle anderen der letzten 20 Jahre auch: "Show up to practice, play a riff, show our drummer", erzählt Scott Hill dem Premier-Guitar-Magazin. "Usually we record everything we do on a 4-track cassette machine. We'll put one microphone in the middle of all of us—pointing down. That seems to capture everything really well. We've been doing that for 20 years on the same recorder."
Wer sich für die Arbeitsweise der Band und den Einsatz von Fuzz-Effekten interessiert, der lese dieses Interview mit Hill und Balch: www.premierguitar.com/articles/21046-fu-manchu-fu-zzalicious?page=1
Das neue Werk knüpft jedenfalls nahtlos an die Vorgänger an. Wer knackigen Stoner-Rock mit vielen Fuzz-Effekten liebt, der liegt hier richtig beim "definitiv besten" Studioalbum seit 10 Jahren, so die Musikzeitschrift Visions. Fu Manchu servieren dem Hörer monströsen Hard Rock, der dank punkiger Energie, psychedelischen Elementen und Killer-Riffs en masse so frisch aus den Boxen donnert, wie schon lange nicht mehr.
Ursprünglich 1985 unter dem Namen Virulence als deutlich von Black Flag-inspirierte Punkband gegründet, sind Fu Manchu in den Jahren danach zu einer festen und zurecht gefeierten Institution in Sachen Rock 'n' Roll geworden. Seit ihrer ersten Single "Kept Between Trees" (1990) etablierten sich Fu Manchu neben Bands wie Monster Magnet, Kyuss und Sleep als Begründer des Stoner Rocks. Ihr ureigener, unglaublich eingängiger und ehrlicher Sound bescherte dem Quartett weltweit Massen von Fans, denen Fu Manchus sonnige, unbeschwerte, aber immer herrlich rotzige Gitarrenmusik den grauen Alltag versüßt. Mehr Infos unter www.fu-manchu.com und www.facebook.com/FuManchuBand
28.09.2014 - Osnabrück, Rosenhof (20,- €)
30.09.2014 - Wiesbaden, Schlachthof (20,- €)
01.10.2014 - Karlsruhe, Substage (20,- €)
08.10.2014 - Erfurt, HSD Gewerkschaftshaus (20,- €)
Ticketmaster, www.ticketmaster.de, Tel. 0 18 06 – 9 99 00 00 (0,20 EUR/Verbindung aus dt. Festnetz / max. 0,60 EUR/Verbindung aus dt. Mobilfunknetz) oder Tel. 030 – 84 10 89 09