Die BLACK VEIL BRIDES aus Los Angeles sind zurück – und bringen ihr viertes Studioalbum mit. Die selbstbetitelte Scheibe "Black Veil Brides" wird am 24. Oktober via Spinefarm Records in Europa erscheinen. Das neue Album wurde von Studio-Legende Bob Rock produziert, bekannt für seine Arbeit an einigen der erfolgreichsten Rock- und Metal-Klassikern, wie dem "Black Album" von Metallica oder "Dr. Feelgood" von Mötley Crüe.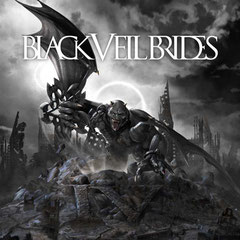 Das elf Songs umfassende Album enthält einige der härtesten und vielschichtigsten Songs, die die Band je komponiert hat. Der Album-Opener "Heart Of Fire", der gleichzeitig auch als erste Single dient, ist ein dynamischer Rock-Song, der neben den bandtypischen Gitarren-Duellen und treibenden Rhythmen auch die positiven Lyrics enthält, für die die Band bekannt ist. Das Cover zu "Black Veil Brides" wurde vom langjährigen Bandfreund und ehemaligem Coverkünstler Richard Villa designt.
Seit ihrem ersten Album "We Stitch These Wounds" haben die BLACK VEIL BRIDES stetig an Kraft gewonnen und ihre "BVB Army" immer weiter wachsen lassen. Ihr erster Song "Knives And Pens" wurde in dieser Zeit über 100 Millionen Mal auf YouTube aufgerufen. Darüber hinaus hat die Band mit "Set The World On Fire" und "Wretched And Divine: The Story Of The Wild Ones" zwei weitere gefeierte Alben veröffentlicht. Ihr letztes Album landete mit 42.000 verkauften Einheiten innerhalb der ersten Woche auf Platz Sieben der US-Billboard Top 200 Album Charts und eroberte zudem Platz Eins der iTunes Top Album Charts und der iTunes Rock Charts. Zudem hat die Band erst kürzlich einen Award in der Kategorie "Most Dedicated Fans" beim Alternative Press Music Award in Cleveland gewonnen. Dieser reiht sich ein in ihre Sammlung aus mehreren Kerrang Awards und Revolver Golden Awards.