Die reaktivierte Seattle Metal Band SANCTUARY hat letzte Woche Deutschland besucht und nicht nur das Turock Open Air in Essen als Headliner gerockt, sondern nebenbei noch die Zeche Hugo in Gelsenkirchen mit dem Video Produzenten Dirk Behlau in Schutt und Asche gelegt. Das dabei entstandene Video zu dem Song "Frozen" wird am 23. September seine Weltpremiere feiern. Wenige Tage später erscheint dann endlich am 03. Oktober das lang ersehnte neue Album "The Year The Sun Died". Fotos von dem Videodreh gibt es auf www.facebook.com/sanctuaryfans zu sehen. Wer mit SANCTUARY vertraut ist, erkennt natürlich Bassist Jim Sheppard auf den Video Fotos, der aus gesundheitlichen Gründen leider nicht beim Turock Open Air auf der Bühne stehen konnte und dort durch den ebenfalls aus Seattle stammenden Freund der Band, George Hernandez, vertreten wurde. Jim konnte seine Jungs aber vom Bühnenrand mental unterstützen.
Einen ersten Vorgeschmack auf das Album gibt es mit dem Song "Arise And Purify" hier: http://www.muzu.tv/channel/sanctuaryband/sanctuary-arise-and-purify-album-track-musikvideo/2287333/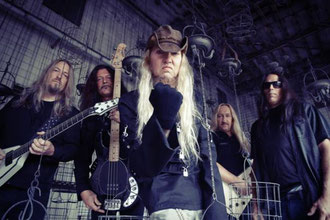 SANCTUARY wurden 1985 gegründet und veröffentlichten zwei Studioalben über Epic Records: "Refuge Denied" im Jahr 1987 und "Into the Mirror Black" im Jahr 1989. Neben vielen anderen Bands tourten sie beispielsweise mit MEGADETH, WARLOCK, FATES WARNING und DEATH ANGEL.1992 löste sich die Band dann offiziell auf und Sänger Warrel Dane und Bassist Jim Sheppard gründeten daraufhin NEVERMORE. Die Reunion von SANCTUARY wurde im Jahr 2010 bekanntgegeben und es folgten einige Festivalauftritte in Europa und den USA in der Originalbesetzung, mit Ausnahme des Gitarristen Sean Blosl, der durch Brad Hull (ex-Forced Entry) als festes Bandmitglied ersetzt wurde.
Das neue Album wird 11 neue Songs enthalten. Auf der Deluxe Version und der dem Vinyl beigelegten Bonus CD ist zusätzlich noch eine Cover Version von The Doors "Waiting For The Sun" zu finden. Das Cover Artwork wurde von Travis Smith entworfen, der schon in der Vergangenheit für NEVERMORE gearbeitet hat und auch durch seine Arbeiten für OPETH bekannt wurde.
"The Year The Sun Died" - Tracklist:
01. Arise and Purify
02. Let The Serpent Follow Me
03. Exitium (Anthem of the Living)
04. Question Existence Fading
05. I Am Low
06. Frozen
07. One Final Day (Sworn to Believe)
08. The World is Wired
09. The Dying Age
10. Ad Vitam Aeternam
11. The Year the Sun Died
SANCTUARY line-up 2014:
Warrel Dane - Vocals
Lenny Rutledge - Guitars
Jim Sheppard - Bass
Dave Budbill - Drums
Brad Hull - Guitars
SANCTUARY online:
www.facebook.com/sanctuaryfans