Die Pioniere des "Gothenburg Style" Melodic Death Metals AT THE GATES werden in Kürze ihr mit Spannung erwartetes Comeback-Album "At War With Reality" veröffentlichen. Es ist das erste Studioalbum seit 19 Jahren.
Einen ersten Vorgeschmack liefert der Online Teaser zu "At War With Reality", den man sich hier anschauen kann: http://youtu.be/zdvIGiaEoUQ
Das Album wird am 24. Oktober in Deutschland, Österreich und der Schweiz via Century Media veröffentlicht. Hier die Tracklist: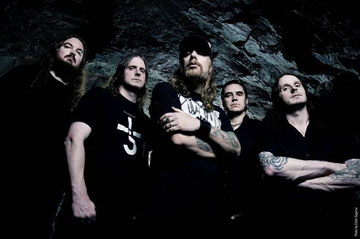 AT THE GATES – "At War With Reality"
01. El Altar Del Dios Desconocido
02. Death And The Labyrinth
03. At War With Reality
04. The Circular Ruins
05. Heroes And Tombs
06. The Conspiracy Of The Blind
07. Order From Chaos
08. The Book Of Sand (The Abomination)
09. The Head Of The Hydra
10. City Of Mirrors
11. Eater Of Gods
12. Upon Pillars Of Dust
13. The Night Eternal
AT THE GATES, im klassischen Line-Up des 1995er Meisterwerks "Slaughter Of The Soul", nahmen "At War With Reality" mit Fredrik Nordström im Studio Fredman (In Flames, Arch Enemy, Dimmu Borgir) auf und mixten zusammen mit Jens Bogren in den Fascination Street Studios (Opeth, Amon Amarth, Kreator). Hier seht ihr eine kurze Videobotschaft von Jens Bogren: https://www.youtube.com/watch?v=l0vkElvuk-c
Zuletzt hatten AT THE GATES folgende Videomessage veröffentlicht: http://youtu.be/3i_OUQPpBjE
Das Neueste von der Livefront von AT THE GATES ist ein Auftritt beim Blastfest in Norwegen am 21. Februar (mehr Details hier: https://www.facebook.com/blastfestival). Außerdem werden Rotten Sound AT THE GATES bei den bereits angekündigten Shows in Finnland im November supporten, die der Tourauftakt für die bevorstehende "At War With Reality"-Tour sein werden.
Hier ein Überblick aller kommenden AT THE GATES Tourdates:
http://www.metalmieze.de/tourdaten/a/
Weitere Tourtermine und mehr zu "At War With Reality" erfahrt ihr demnächst...
AT THE GATES Line-Up:
Tomas Lindberg - Vocals
Anders Björler - Guitars
Martin Larsson - Guitars
Jonas Björler - Bass
Adrian Erlandsson - Drums
AT THE GATES Selected Discography:
Gardens Of Grief / EP - 1991
The Red In The Sky Is Ours - 1992
With Fear I Kiss The Burning Darkness - 1993
Terminal Spirit Disease - 1994
Slaughter Of The Soul - 1995
Purgatory Unleashed / Live - 2010
At War With Reality ­– 2014
AT THE GATES online:
https://www.facebook.com/AtTheGatesOfficial
https://twitter.com/AtthegatesGBG