DAS CLASSIC ROCK SHOWCASE FORMAT ERNEUT AUF TOURNEE
SPANNENDES LINE UP MIT ROBERT PEHRSSON'S HUMBUCKER UND NAVARONE
KONZERTE IN KÖLN, FRANKFURT, MÜNCHEN UND BERLIN IM NOVEMBER
TICKETS AB DEM 5. SEPTEMBER ERHÄLTLICH!
CLASSIC ROCK, das führende Magazin für anspruchsvolle Rockmusik, freut sich in Zusammenarbeit mit Wizard Promotions auf eine Fortsetzung des Showcase-Formats und präsentiert mit ROBERT PEHRSSON'S HUMBUCKER aus Schweden und NAVARONE aus den Niederlanden zwei neue Bands, die ihre Wurzeln im klassischen Rock haben und von denen viele Experten und Branchenkenner erwarten, dass sie sich in absehbarer Zeit ein großes Publikum erspielen werden. Die CLASSIC ROCK ROADSHOW bietet im November den neugierigen Rock-Fans ein weiteres Mal die Möglichkeit Newcomer zu entdecken und zu erleben, bevor sie sich in den größeren Hallen wiederfinden. Die CLASSIC ROCK ROADSHOW gastiert am 26. November in Köln im MTC, am 27. November in Frankfurt im Zoom, am 28. November in München im Backstage und am 30. November in Berlin im Comet. Tickets gibt es ab Freitag, den 5. September an den bekannten Vorverkaufsstellen, unter der bundesweiten Tickethotline 01806 / 999 000 555 (0,20 EUR/Verbindung aus dt. Festnetz / max. 0,60 EUR/Verbindung aus dt. Mobilfunknetz) oder im Internet unter www.ticketmaster.de. Bereits ab Mittwoch, den 3. September bieten Ticketmaster und CTS Eventim exklusive Presales an.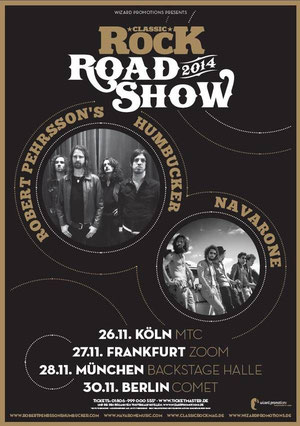 Obwohl der schwedische Gitarrist und Sänger ROBERT PEHRSSONS seit Mitte der 90er mit so unterschiedlichen Metal-Bands wie Runemagick, Thunder Express, Death Breath, Dundertåget, Imperial State Electric, Slingblade und Dagger gearbeitet hat, besticht sein erstes (Solo-)Album "Robert Pehrsson's Humbucker" durch lupenreinen Classic Rock. Nummern wie "Haunt My Mind" oder "Who Else Is On Your Mind" pendeln zwischen Thin Lizzy und UFO, "Can't Change" tendiert sogar in Richtung Pop. Live hat sich ROBERT PEHRSSONS mit Joseph Tholl, Jens Lagergren und Jakob Ljungberg schon auf mehreren Shows und skandinavischen Festivals einspielen können. Neben den Songs des Debüts begeisterten die Zuschauer vor allem die Auswahl an Coverversionen, u.a. von Rory Gallagher und Tom Petty.
NAVARONE aus Nimwegen und Amsterdam sind der nächste große Geheimtipp im Classic Rock-Bereich. Ihr Debütalbum "A Darker Shade Of White" erschien 2103, innerhalb kürzester Zeit mauserten sich NAVARONE zu einer der angesagtesten Bands der Niederlande. Der Bier-Konzern Grolsch bat sie ihren Werbespot der New Generation-Produktpalette zu untermalen und die niederländische Vertretung des US-Whiskey-Giganten Jack Daniel's produzierte ein Portrait in seiner beliebten Dokumentationsreihe 'Future Legends'. Der Zweitling "Vim and Vigor" erreichte im Mai 2014 die Top 10 der NL-Album-Charts. Kein Wunder, die Bandbreite der Band um Ausnahmesänger Merijn van Haren reicht von verzauberndem, aber gleichzeitig auch düsterem Sound bis zu hoch-energetischem Rock´n´Roll.
CLASSIC ROCK ROADSHOW 2014
Robert Pehrsson's Humbucker & Navarone
26.11.2014 Köln, MTC
27.11.2014 Frankfurt, Zoom
28.11.2014 München, Backstage Halle
30.11.2014 Berlin, Comet
Weitere Informationen unter:
www.robertpehrssonshumbucker.com