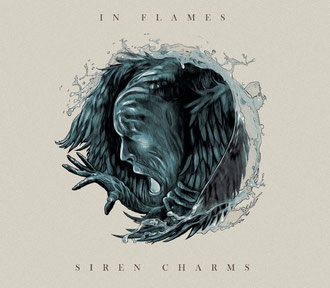 VÖ: 05.09.2014
Label: Sony Music Entertainment
Formar: CD
Tracklist:
01. In Plain View
02. Everything's Gone
03. Paralyzed
04. Through Oblivion
05. With Eyes Wide Open
06. Siren Charms
07. When The World Explodes
08. Rusted Nail
09. Dead Eyes
10. Monsters In The Ballroom
11. Filtered Truth
Am 05.09.2014 erscheint das neue Album von In Flames mit dem Titel "Siren Charms" bei Sony Music Entertainment. Schon im Voraus veröffentlichte die Band zwei Videos zu den Songs "Rusted Nail" und "Through Oblivion", welche von den Fans mit geteilter Meinung aufgenommen wurden. Es ist immer so eine Sache wenn sich eine Band weiterentwickelt und reifer wird. Oft fühlen sich die Fans der ersten Stunde vor den Kopf geschlagen und verraten, die neueren Fans begrüßen wiederum diese Entwicklung. Die vielen Wechsel im Line Up über die Jahre haben die Stilwechsel geprägt und jedem neuen Album so eine eigene Note verpasst ohne den ursprünglichen Grundstil zu vergessen. Man bedenke, daß diese Band damals Mitbegründer eines ganzen Genres waren. In Flames haben sich für diesen Weg entschieden und wenn man dieses auch für sich zulässt erwartet einen ein technisch und künstlerisch anspruchsvolles Album mit einigen Highlights.
Mit dem neuen Album haben In Flames den Produzenten gewechselt und Niclas Engelin wurde zum festen Mitglied im Line Up. Ihre Death Metal Wurzeln waren schon auf den letzten Alben nur noch schwer zu erkennen, auf "Siren Charms" wurde dieser Weg konsequent weitergeführt, so daß die Bezeichnung Melodic Death Metal einfach nicht mehr zutrifft. Aber es muß keiner Angst haben, In Flames klingen immer noch nach In Flames. Das komplette Album wirkt technischer und elektronischer, die Songs sind eher schwermütig als aggressiv und gehören nun in die Stilrichtung Alternate Metal. Der Opener "In Plain View" gibt die Richtung für das komplette Album vor. Trotzdem hat die Band ihr Gespür für einprägsame Songs nicht verloren. Besonders aufgefallen sind mir die Songs "When The World Explodes", welcher durch im Refrain mit weiblichen Vocals ergänzt wird, "Through Oblivion", "With Eyes Wide Open" und "Dead Eyes", was auch problemlos vom Album "Come Clarity" stammen könnte.
Mein Fazit ist: In Flames ist es wieder gelungen ein fesselndes Album zu produzieren, welches trotzdem nicht ganz an die Qualitäten der Vorgängeralben rankommt. Alte Fans der Band werden sich wohl nicht mit dem Werk anfreunden und wieder zu den frühen Scheiben greifen. Für alle Anderen gibt es ein komplexes Album mit mehr Höhen als Tiefen und eine kommende Tour durch Europa.
Line Up:
Vocals - Anders Friden
Guitar - Björn Gelotte
Guitar - Niclas Engelin
Bass - Peter Iwers
Drums - Daniel Svensson
(Jan Heesch)
Das Album kann hier direkt bei Amazon gekauft werden.