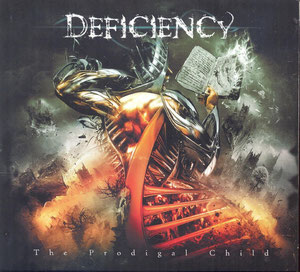 VÖ: 07.10.2013
Label: Mis
Format: CD
Tracklist:
01. The Prodigal Child
02. Unfinished
03. A Prospect Of Traveling Beyond
04. Those Who Behold
05. The Introspection Of The Omnipotent
06. The Flaw
07. Stronger Than You
08. A Way Out Of Nowhere
09. The Experiment
10. The Curse Of Hu's Hands
Von Bands wie Machine Head, Metallica, Trivium, Soilwork oder Megadeth beeinflusst, wurde diese Melodic Thrash Metal Band im April 2008 in Mosel gegründet. Im August 2008 gewannen sie einen regionalen Wettbewerb welcher von der MAI (Music Academy International) in Nancy organisiert wurde. Deficiency bemerkte während der Vorbereitung neuer aggressiver und melodischer Arrangements dass es Zeit war ihr erstes Album aufzunehmen. So erschien 2011 ihr Debut Album "State Of Dissilusion".
Auf ihrem zweiten Album legen die französischen Melo Thrasher Deficiency mit "The Prodical Child" und einem starken Cover Artwork einen guten ersten Eindruck hin. Der Opener und Titeltrack schallt mit dröhnender Wucht aus den Boxen, gefolgt von dem treibenden "Unfinished", welches etwas strukturierter nachgelegt wird und dabei auch leicht melodische Züge aufzeigt. Mit ruhigen sowie anmutigen Klängen wird das ansonsten rifflastige "A Prospect Of Travelling Beyond" eingeläutet, ehe das aggressive "Those Who Behold" herausgeschrien wird. Das anfangs sphärische "The Introspection Of The Omnipotent" wird mit krachenden Gitarren nachgelegt, bevor das teils stampfende, teils als Speedgranate fungierende "The Flaw" aus den Boxen erschallt. Auch "Stronger Than You" wird wütend herausgeschleudert, ehe durch "A Way Out Of Nowhere" Slayer Anleihen aufzeigt werden. Das melancholisch beginnende "The Experiment" macht den Weg frei für den Rauswerfer, dem donnernden "The Curse Of Hu´s Hands", und beendet damit ein rasantes Machwerk, nur wünsche ich mir für kommende Alben etwas mehr Eigenständigkeit. Zu groß sind doch die Ähnlichkeiten zu Genrekollegen, besonders zu Soilwork und Trivium.
(Jan Heesch)
Das Album kann hier direkt bei Amazon gekauft werden.