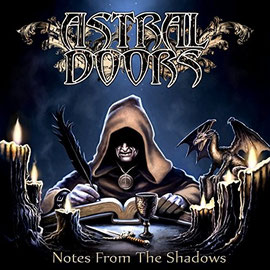 VÖ: 29.08.2014
Label: Metalville
Format: CD
Tracklist:
01. The Last Temptation of Christ
02. Disciples of the Dragon Lord
03. Wailing Wall
04. Shadowchaser
05. Die Alone
06. Hoodoo Ceremony
07. Southern Conjuration
08. Walker the Stalker
09. Desert Nights
10. In The Name of Rock
11. Confessions
Nun steht uns mit der CD "Notes from the Shadows" das mittlerweile siebte Studioalbum der schwedischen Band Astral Doors bevor.
Stilistisch hat sich nicht viel geändert seit dem Vorgänger "Jerusalem" aus dem Jahr 2011, was natürlich nichts schlechtes bedeuten soll, da das Vorgängeralbum qualitativ sehr hochwertig war. Leider wurde ihnen bis jetzt der große Durchbruch verwehrt, da sie zu oft mit Szenegrößen wie Black Sabbath, Whitesnake oder Axxis verglichen werden. Trotz den Ähnlichkeiten hat die Band über die Jahre eine eigenen Stil entwickelt und kann meiner Meinung nach gut standhalten und braucht sich nicht im Schatten der großen Vorbilder zu verstecken. Die Band besteht aktuell aus den Gründungsmitgliedern Nils Patrik Johansson (Gesang), Joachim Nordlund (Gitarre), Johan Linstedt (Schlagzeug) und den im Laufe der Jahre dazugestossenen Musiker Martin Haglund (Gitarre), Joakim "Joeke" Roberg (Orgel) und Mika Itäranta (Bass).
Das Album "Notes From The Shadows" startet direkt mit den beiden flotten Opener "The Last Temptation Of Christ" und "Disciples Of The Dragonlord", welche durch einen sehr eingängigen Chorus im Gehör bleiben. Mit "Die Alone" servieren uns die Schweden ein 9 Minuten Epos welches den Zuhörer merklich fesselt. Zum Ende des Albums folgt dann die obligatorische Lobpreisung an den Rock und Heavy Metal mit dem Stück "In The Name Of Rock", bevor das Werk mit dem finalen Titel "Confessions" abgeschlossen wird.
Im Ganzen gefällt mir das Album sehr gut, eingängige Melodien, einprägsamer Gesang und ein 9 Minuten Epos bilden einen sehr guten Gesamteineindruck.
Jedem der Bands wie Crystal Eyes, Axxis und Rainbow mag kann ich dieses Album wärmstens empfehlen.
(Jan Heesch)
Das Album kann hier direkt bei Amazon gekauft werden.