Die schwedischen Death-Thrash Metaller THE HAUNTED veröffentlichen ab heute ihr achtes Longplayer Album Exit Wounds via Century Media Records!
Exit Wounds ist in den folgenden Formaten erhältlich:
- Standard Jewel Case CD
- Digital Download
- Limited Edition Mediabook CD (Inkl.2 Bonustracks und expanded Booklet)
- LP / Schwarzes 180gr. Vinyl – Unlimitiert
- LP / Weisses 180gr. Vinyl – Limitiert auf 100x (Exklusiv im CM Webshop)
- LP / Transparent rotes 180gr. Vinyl – Limitiert auf 200x (Exklusiv bei CM Distro USA)
- LP / Clear 180gr. Vinyl – Limitiert auf 100x (Exklusiv bei NBR)
- Boxset – Limitiert auf nummerierte 500x nummeriert (Exklusiv bei CM Distro – Inhalt: Mediabook CD, Beanie, Patch, 3 Buttons und Poster)
Und hier das Tracklisting des Albums: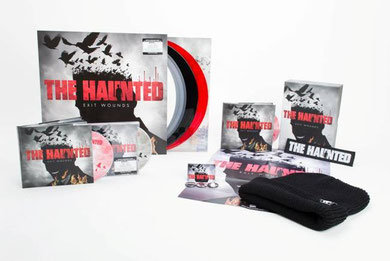 THE HAUNTED – "Exit Wounds":
01. 317
02. Cutting Teeth
03. My Salvation
04. Psychonaut
05. Eye Of The Storm
06. Trend Killer
07. Time (Will Not Heal)
08. All I Have
09. Temptation
10. My Enemy
11. Kill The Light
12. This War
13. Infiltrator
14. Ghost In The Machine
Die beiden exklusiven Bonustracks der Mediabook CD Version sind "As The Poison Sets In" und "The Manifestation".
Checkt hier für alle verfügbaren physischen Formate in Europa: http://smarturl.it/thehauntedCMD
Ein Album/Shirt Bundle gibt es bei EMP hier: http://www.emp.de/haunted-the-exit-wounds-cd-t-shirt/art_288605/
Für das Artwork von Exit Wounds ist Andreas "Diaz" Pettersson verantwortlich, der auch schon die letzten vier Alben und das Logo der Band entworfen hat. Exit Wounds ist quasi das Debüt für die runderneuerten Bandkonstellation von The Haunted: Die Band besteht nun aus den Gründungsmitgliedern Jonas Björler (Bass) und Jensen (Gitarre), den ehemaligen Mitgliedern Adrian Erlandsson (Schlagzeug) und Marco Aro (Gesang), sowie ihrem neuesten Mitglied Ola Englund (Gitarre). Vom erbarmungslosen Auftakt-Triple-Punch mit "Cutting Teeth", "My Salvation" und "Psychonaut" über die rhythmischen Riff-Festivals "Eye Of The Storm", "Trend Killer" (Gitarrensolo von Jed Simon - SCAR THE MARTYR / STRAPPING YOUNG LAD und Gastgesang von Chuck Billy - TESTAMENT) und "Time (Will Not Heal)" bis zum klotzigen melodischen Groove von Tracks wie "All I Have" und Trademark-Thrash-Stücken wie "Temptation", "Kill The Light" oder "Infiltrator"; durch die pulverisierende Heaviness von "This War" über die einminütige Raserei von "My Enemy" bis zum epischen Finale mit dem ausgedehnten "Ghost In The Machine": "Exit Wounds" enthält das gesamte Artillerie-Arsenal, das eine moderne Extrem-Metal-Band überhaupt abfeuern kann, und dürfte nicht nur bereits konvertierte Fans von THE HAUNTED durch seine immens durchdringende Kraft beeindrucken. Eine unmissverständliche Rückkehr zu alter Stärke...
Exit Wounds Online-Links:
"Cutting Teeth": http://www.muzu.tv/the-haunted/cutting-teeth-album-track-music-video/2261382/
"Time (Will Not Heal)" Premiere: http://www.metalsucks.net/?p=148746
Studio message # 1: http://youtu.be/rXL9gEXemUI
Studio message # 2: http://youtu.be/aeu1DzQvphw
Studio drum kit rundown: http://youtu.be/pLx7U-Bat0U
Rehearsal room footage: http://youtu.be/u8KR3ZOaR-g
"Trespass" play-through video: http://youtu.be/WxEDLJf3_Pc
"D.O.A." split-guitar play-through video: http://youtu.be/ClsY3EQhBYc
THE HAUNTED Line-up:
Marco Aro - vocals
Jensen - guitars
Ola Englund - guitars & solo guitars
Jonas Bjorler - bass
Adrian Erlandsson - drums
THE HAUNTED live 2014:
http://www.metalmieze.de/tourdaten/t/
THE HAUNTED online: