ORPHANED LAND, einer der erfolgreichsten musikalischen Exporte aus Israel und Gewinner des "Global Metal Band of the Year 2014" Metal Hammer Awards, wird ab Oktober hiesige Bühnen erstürmen, um den zehnten Geburtstag des Konzeptalbums "Mabool" zu feiern.
Pünktlich zur kommenden Europa Tour, re-releasen ORPHANED LAND "Mabool" als remasterte 10th Anniversary 2CD Limited Edition inkl. der "The Calm Before The Flood" Akustik Show und der gesamten "Ararat" EP. Besorgt euch euer Exemplar hier: http://smarturl.it/maboolCMD
Ab dem 30. Oktober beginnt die Tour in Frankreich, Sänger Kobi Farhi freut sich darauf alle Songs des Albums "Mabool" dem europäischen Publikum präsentieren zu dürfen und sagt dazu folgendes: "It's crazy how the time flies! Mabool is 10 years old! We are happy to celebrate this on some exclusive special shows in which we will play the whole album in a row, together with songs from all of our albums. So make sure you won't miss those special shows and the remastered CD & LP version of Mabool, see you all soon!"
"Mabool" Tracklist:
CD1
01. Birth Of The Three (The Unification)
02. Ocean Land (The Revelation)
03. The Kiss Of Babylon (The Sins)
04. A'salk
05. Halo Dies (The Wrath Of God)
06. A Call To Awake (The Quest)
07. Building The Ark
08. Nora El Nora (Entering The Ark)
09. The Calm Before The Flood
10. Mabool (The Flood)
11. The Storm Still Rages Inside
12. Rainbow (The Ressurection)
CD2
01. The Evil Urge
02. A Never Ending Way
03. Mercy
04. The Beloved's Cry
05. The Orphaned's Medley
06. The Calm Before The Flood (Remix)
07. Building The Ark (Demo Version)
08. The Kiss Of Babylon (Demo Version)
09. Mercy (Paradise Lost Cover)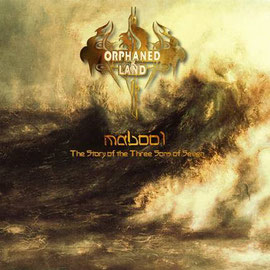 ORPHANED LAND "Mabool" 10th Anniversary Tour 2014
30.10.2014 - F - Strasbourg, La Laiterie Club
31.10.2014 - D - Frankfurt, Nachtleben
01.11.2014 - D - Gera, Sächsischer Bahnhof
02.11.2014 - CH - Pratteln, Z7 Mini
03.11.2014 - F - Paris, Le Divan Du Monde
04.11.2014 - UK - Leicester, Firebug
05.11.2014 - UK - Manchester, Academy 3
06.11.2014 - IRE - Dublin, Voodoo
07.11.2014 - UK - London, The Dome
08.11.2014 - NL - Apeldoorn, Gigant Brainstorm Festival
ORPHANED LAND online:
http://www.facebook.com/OrphanedLandOfficial