DORO Pesch ist eine lebende Legende! Das weiß die Welt spätestens seit dem 17. Juni 2013, als die "Queen of Rock & Metal" in England bei den renommierten "Golden Gods Awards" in der Londoner O2 Arena den erstmals verliehenen "Legends-Award" erhielt.
Vorläufiger Höhepunkt einer nunmehr schon drei Jahrzehnte lang anhaltenden Karriere. DORO kann auf eine wahrlich einzigartige Laufbahn im Musikbusiness blicken. DORO, das heißt in Zahlen: Gold und Platin-Auszeichnungen für ca. 10 Millionen verkaufte Tonträger, über 2.800 Live-Auftritte auf vier Kontinenten und in 60 Ländern der Erde, 16 Studioalben, vier DVDs, unzählige Titelbilder auf allen relevanten Musik-Magazinen und Millionen begeisterte Fans auf der ganzen Welt.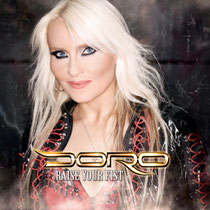 Mit 16 Jahren spielte DORO bereits in ersten Bands, aber die Erfolgsstory begann mit der Gründung ihrer Band Warlock 1982 und dem ersten Album Burning The Witches,1983: die ersten Schritte zur Weltkarriere, die sie 1986 als erste Frau auf die Bühne des legendären "Monsters of Rock" Festival im englischen Castle Donnington führten – und vor 120.000 frenetische Fans.
Im selben Jahr erhielten DORO und Warlock das Angebot, mit Judas Priest auf Welttournee zu gehen. An dem Punkt entschied sich DORO endgültig, ihren Job als Grafik-Designerin zu kündigen und mit ganzem Herzen, Leib und Seele ins Profi-Musikgeschäft einzusteigen. Auf großen Welttourneen erspielte sich DORO fortan als Headliner in den USA, Südamerika, China, Japan, Australien und Europa eine riesige Fangemeinde. In Spanien und Russland wird sie heute gar verehrt wie eine Göttin. Sie absolvierte zudem weitere Super-Touren mit Ikonen wie Ronnie James Dio, den Scorpions oder Motörhead.
Die aktuelle DORO-Band besteht aus Nick Douglas (Bass), Johnny Dee (Drums), Bas Maas (Gitarre), Luca Princiotta (Gitarre, Keyboard) und Harrison Young (Keyboard).
Als Krönung kehrt DORO am 2. und 3. Mai 2014 für gleich zwei Konzertnächte erneut in ihre Heimatstadt Düsseldorf zurück, um in der CCD-Halle mit einer Klassik-Nacht (02.05.14) und einer Vollgas-Rock ´n´ Roll-Show mit illustren Stargästen ihr großes Jubiläum zu begehen, bevor es im Herbst auf "30 Years Strong & Proud Tour" geht!
Tourdaten:
29.08.2014 - D - Wörrstadt, Neuborn Open Air
30.08.2014 - D - Schleswig, Baltic Open Air 2014
05.09.2014 - D - Haigerloch-Gruol, Motorradtreffen
15.11.2014 - D - Osnabrück, Hydepark
16.11.2014 - NL - Zoetermeer, Boerderij
18.11.2014 - D - Oberhausen, Turbinenhalle
20.11.2014 - D - Erfurt, Stadtgarten
21.11.2014 - CZ - Brno, Semilasso
22.11.2014 - D - Dresden, Alter Schlachthof
23.11.2014 - D - Berlin, Huxleys Neue Welt
28.11.2014 - A - Dornbirn, Conrad-Sohm
29.11.2014 - D - Stuttgart, LKA/Longhorn
30.11.2014 - D - Mannheim, Alte Seilerei
02.12.2014 - D - Würzburg, Posthalle
03.12.2014 - D - München, Backstage
05.12.2014 - B - Antwerpen, Trix