Nach unseren Hoffesten 2008, 2010 und 2012, bei denen ein starkes Liveprogramm (u.a. ASPHYX, GRAVE, TURISAS) und der mit Tonnen von Schnäppchen bestückte Lagerverkauf über 1.000 Besucher zum Century Media Hauptquartier im Dortmunder Hafen lockte, ist es 2014 wieder an der Zeit, euch nicht nur die Vollbedienung auf der Bühne, sondern auch Schnäppchen vom Death Metal Geheimtipp über Punk-Perlen bis zum Prog-Klassiker zu unschlagbaren Kursen zu bieten.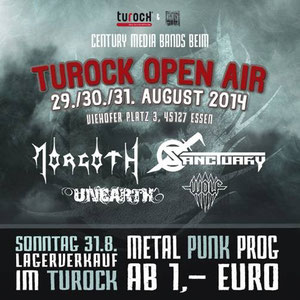 Dafür haben wir uns in diesem Jahr mit der Mannschaft des Essener Turock Clubs zusammen getan, die seit jeher unsere Bands tatkräftig unterstützen, um im Rahmen des Turock Open Airs vom 29. bis 31. August 2014 ein attraktives Live- und Schnäppchenjägerprogramm auf die Beine zu stellen:
An allen drei Festivaltagen wird es auf der Händlermeile einen Verkaufsstand mit aktuellen Produkten der Partnerlabels Century Media, InsideOut/Superball Music, People Like You Records, zu extrem fairen Preisen geben, sowie am Sonntag, dem 31. August ab 13 Uhr den großen Lagerverkauf im eigens dafür reservierten Turock Club, wo ihr Metal / Punk / Prog und mehr ab 1€ abgreifen könnt!
Also, kommt vorbei, es lohnt sich!
Im Rahmen des Festivalprogramms (siehe komplette Running Order unten) spielen zudem die Century Media Acts MORGOTH (neue Single "God Is Evil" jetzt erhältlich!), SANCTUARY (1. Europashow zum neuen Album "The Year The Sun Died", VÖ: 3.10.), WOLF (neues Album "Devil Seed" kommt am 22.8.) und UNEARTH (neues Album im Oktober als Europalizenz). Ein bärenstarkes Programm für die Knüppelfraktion, traditionsbewusste Headbanger und Freunde moderner Härte. Im kommenden Tourherbst werden dann Bands wie ENTOMBED A.D., GRAVE, VALLENFYRE, DARK FORTRESS, AT THE GATES, TRIPTYKON, MORBUS CHRON weitere Zeichen für die Verbundenheit zweier Ruhrpott-Institutionen setzen.
Location:
Turock Open Air / Club
45127 Essen, Viehofer Platz 3.
Weitere Infos zum Festival:
Running Order:
Freitag, 29.08.
23:20 – 00:20 Peter & TTB
22:00 – 23:00 Jaya the Cat
20:40 – 21:40 Mr. Irish Bastard
19:30 – 20:20 Eat the Gun
18:20 – 19:10 The Rules
17:30 – 18:00 Diablo Blvd
Samstag, 30.08.
23:10 – 00:30 Morgoth
21:50- 22:50 Cryptopsy
20:40 – 21:30 Exumer
19:35 – 20:25 Vanderbuyst
18:20 – 19:20 Unearth
17:20 – 18:05 Shadows Fall
16:25 – 17:05 Jungle Rot
15:40 – 16:10 The Acacia Strain
14:50 - 15:25 Disgorge
14:00 - 14:35 Tenside
13:15 - 13:45 War of Ages
12:30 - 13:00 Pay no Respect
Sonntag, 31.08.
20:30 – 22:00 Sanctuary
19:00 – 19:50 Wolf
18:00 – 18:40 Dead Lord
17:00 - 17:50 Contradiction
16:00 – 16:40 Noctum
15:00 – 15:40 Edge of Serenity
14:00 - 14:40 Solar Fragment