Die Pioniere des "Gothenburg Style" Melodic Death Metals, AT THE GATES, haben gerade die Aufnahmen zu ihrem Comebackalbum "At War With Reality" abgeschlossen und enthüllen nun den Veröffentlichungstermin für das mit Spannung erwartete Werk: In Deutschland, Österreich und der Schweiz erscheint die Platte am 24. Oktober 2014 via Century Media Records.
AT THE GATES, die sich im klassischen Line-Up des 1995er Meisterwerks "Slaughter Of The Soul" vor einigen Jahren reformierten, erledigten die Aufnahmen für "At War With Reality" mit Fredrik Nordström im Studio Fredman (In Flames, Arch Enemy, Dimmu Borgir) und mixten das Material im Anschluss zusammen mit Jens Bogren in den Fascination Street Studios (Opeth, Amon Amarth, Kreator).
AT THE GATES Sänger Tomas Lindberg sagt dazu folgendes:
"We are very excited to finally have finished this new album. An album that we've been working on for over a year now. It's by far the most challenging record that we have made, but it's an honest album and I think that you will feel that it is faithful to the legacy of AT THE GATES.
We have, through the process of creating it, been true to ourselves and our art. From hearing the first demos that Anders presented to the band last summer, through the extensive stages of songwriting, pre-production, rehearsals, recording and mixing, we now finally got the finished album in our hands.
We are very happy to have managed to produce an album that we feel is truly "us". Something we can all stand behind one hundred percent. I can't wait 'til you all get to hear it!"
Eine Videobotschaft von Jens Bogren / Fascination Street Studios dazu kann man sich hier anschauen: https://www.youtube.com/watch?v=l0vkElvuk-c
Zuvor hatten AT THE GATES folgende Videomessage veröffentlicht: http://youtu.be/3i_OUQPpBjE und eine anfängliche Pre-Production-Videomessage gibt es hier zu sehen: http://youtu.be/uOmaN4chwJM
AT THE GATES haben außerdem ihre nächsten internationalen Tourpläne für 2015 bekannt gegeben. Dabei werden sie im Mai zum allerersten Mal Südafrika besuchen, in Griechenland und der Türkei im Januar aufkreuzen und Norwegen im Februar unsicher machen. Hier ist eine Übersicht aller kommenden AT THE GATES Live-Termine: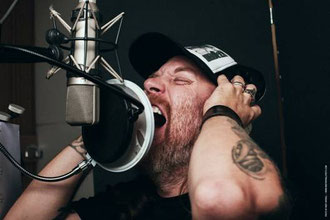 AT THE GATES + Support:
20.11.2014 - FIN - Tampere, Klubi
21.11.2014 - FIN - Jyväskylä, Lutako
22.11.2014 - FIN - Helsinki, Nosturi
AT THE GATES, GRAVE, MORBUS CHRON:
27.11.2014 - S - Göteborg, Trägårn
28.11.2014 - S - Stockholm, Arenan
29.11.2014 - S - Malmö, KB
AT THE GATES, TRIPTYKON, MORBUS CHRON:
04.12.2014 - UK London, Forum
05.12.2014 - UK - Manchester, Academy 2
06.12.2014 - UK - Glasgow, Garage
07.12.2014 - UK - Birmingham, Academy
08.12.2014 - UK - Cardiff, Solus
10.12.2014 - D - Essen, Turock
11.12.2014 - D - Hamburg, Markthalle
12.12.2014 - NL - Eindhoven, Eindhoven Metal Meeting
13.12.2014 - D - Leipzig, Conne Island
14.12.2014 - A - Wien, Arena
16.12.2014 - CH - Aarau, Kiff
17.12.2014 - D - München, Backstage Werk
18.12.2014 - B - Antwerpen, Trix
19.12.2014 - D - Köln, Essigfabrik
20.12.2014 - D - Berlin, Postbahnhof
AT THE GATES – Live 2015:
08.01.2015 - TR - Istanbul, Jolly Joker
09.01.2015 - GR - Athens, Stage Volume 1
10.01.2015 - GR - Thessaloniki, Principal Club
31.01.2015 - IRL Dublin, Academy
26.02.2015 - NO - Oslo, Vulkan Arena
Weitere Tourtermine und mehr Details zu "At War With Reality" folgen in Kürze...
AT THE GATES Line-Up:
Tomas Lindberg - Vocals
Anders Björler - Guitars
Martin Larsson - Guitars
Jonas Björler - Bass
Adrian Erlandsson - Drums
AT THE GATES Selected Discography:
Gardens Of Grief / EP - 1991
The Red In The Sky Is Ours - 1992
With Fear I Kiss The Burning Darkness - 1993
Terminal Spirit Disease - 1994
Slaughter Of The Soul - 1995
Purgatory Unleashed / Live - 2010
At War With Reality ­– 2014
AT THE GATES online:
https://www.facebook.com/AtTheGatesOfficial
https://twitter.com/AtthegatesGBG