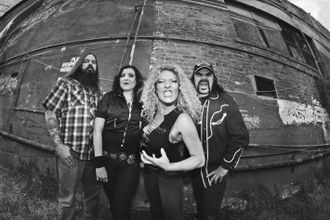 Eine der außergewöhnlichsten und charismatischsten Rockbands der Gegenwart kündigt für Oktober und November endlich Livedaten in Deutschland und Österreich an.
Um es konkret zu benennen: Das amerikanische Quartett Nashville Pussy, bestehend aus Blaine Cartwright (Gesang, Gitarre), Ruyter Suys (Gitarre), Jeremy Thompson (drums) und Bonnie Buitrago (bass), kommen für 7 Gigs nach Deutschland und 1 Gig nach Österreich und werden in typischer Pussy-Manier die Bühnen rocken.
Nashville Pussy existieren seit 1996. Seither hat die Gruppe eine Vielzahl kraftraubender Konzertmarathons absolviert, mit Größen wie Lynyrd Skynyrd, Reverend Horton Heat oder auch ZZ Top getourt und auf namhaften Festivals wie dem Wacken Open Air gespielt. Mit Alben wie Let Them Eat Pussy (1998), High As Hell (2000), Say Something Nasty (2002) oder From Hell To Texas (2009) konnten Nashville Pussy weltweit für Furore sorgen, Ende der Neunziger wurde die Band mit dem Song ´Fried Chicken And Coffee` sogar für den Grammy Award in der Sparte ´Best Metal Performance` nominiert.
Das aktuelle Album "Up The Dosage" wurde im Januar von SPV/Steamhammer als DigiPak, 2LP, Standard Version und Download veröffentlicht.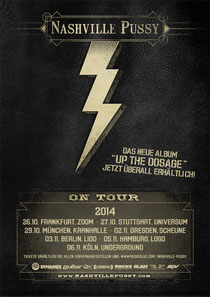 NASHVILLE PUSSY live 2014
26.10.2014 - D - Frankfurt, Zoom
27.10.2014 - D - Stuttgart, Universum
29.10.2014 - D - München, Kranhalle@Feierwerk
30.10.2014 - A - Wien, Chelsea
02.11.2014 - D - Dresden, Scheune
03.11.2014 - D - Berlin, Lido
05.11.2014 - D - Hamburg, Logo
06.11.2014 - D - Köln, Underground
Der VVK ist eröffnet und Karten sind an allen bekannten VVK Stellen oder unter http://www.musicglue.com/Nashville-Pussy/ für Deutschland erhältlich.