- Viele Gäste, neue Songs, Coverversionen -
Während die norddeutsche Melodic Metal-Band Mob Rules in diesen Tagen den letzten Feinschliff an ihrer Anniversary-Box Timekeeper (VÖ: 10. Oktober 2014, Europa 13. Oktober 2014, US/Canada: 28. Oktober 2014) vornehmen, geben die Musiker gleichzeitig die ersten Details des mehrteiligen Packages bekannt: Timekeeper besteht aus zwei CDs, einer Single und einer Live-DVD. Auf CD 1 präsentieren Mob Rules die 15 wichtigsten Songs ihrer bislang acht Veröffentlichungen, darunter Klassiker wie ´Black Rain`, ´Hollowed Be Thy Name`, ´Astral Hand`, ´Rain Song` (Live) oder ´Cannibal Nation`.
Mit CD 2 erfüllen sich die Bandmitglieder einen langehegten Traum: "Wir wollten immer schon mal Gäste ins Studio einladen, die für uns und unsere Entwicklung wichtig waren und mit denen wir befreundet sind", erklärt Schlagzeuger Nikolas Fritz und verweist auf eine lange Liste namhafter Musiker, die sich auf Timekeeper verewigt haben, darunter Udo Dirkschneider (U.D.O.), Bernhard Weiß & Marco Wriedt (beide Axxis), Amanda Somerville & Sascha Paeth (beide Avantasia), Peavy Wagner (Rage), Michael Ehré (Gamma Ray), Herman Frank (Accept), Corvin Bahn (Uli Jon Roth, Saxon), Herbie Langhans (Sinbreed, Seventh Avenue), Stefan Lill (Vanden Plas) Chitral Somapala (Ex- Firewind, Red Circuit) oder Peter Knorn (Victory). Zu hören sind die Musiker auf neu aufgenommen Mob Rules-Klassikern, auf den Coverversionen ´Lights Out` (UFO) und ´Run With The Wolf` (Rainbow) sowie auf zwei nagelneuen Songs, die Mob Rules exklusiv für Timekeeper komponiert haben. "Die Box reflektiert damit gleichzeitig Vergangenheit, Gegenwart und auch Zukunft der Band", so Nikolas Fritz.
Abgerundet wird Timekeeper durch eine DVD mit Aufnahmen vom 2011er Mob Rules-Auftritt beim Prog-Power-US-Festival in Atlanta/USA sowie umfangreichem Bonusmaterial. Nikolas Fritz: "Nach diesen Filmaufnahmen wurde von unseren Fans immer wieder gefragt, deshalb haben wir das Material jetzt schneiden und den Sound mischen lassen. Eine tolle Erinnerung, auch für uns selbst."
Als echte Hingucker erweisen sich auch Cover-Artwork und das 44seitige Booklet der hochwertigen Box, mit zahlreichen Fotos aus allen Phasen der 20jährigen Karriere von Mob Rules. Ein besonderes Gimmick ist zudem, dass jede der limitierten Boxen einzeln und von Hand nummeriert ist und deshalb ein ganz spezielles Fan-Item darstellt.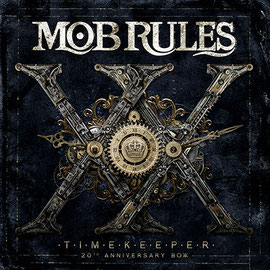 TIMEKEEPER -TRACKLISTING
DISC 1: THE BEST
- Temple Fanfare
- Pilot of Earth
- Black Rain
- Cannibal Nation
- Astral Hand
- Close My Eyes
- Dead Man`s Face
- Among The Gods
- In The Land Of Wind And Rain
- Hollowed Be Thy Name
- Last Farewell
- Ice And Fire
- Lord Of Madness (Live)
- With Sparrows Rain Song (Live)
DISC 2: FRIENDS
- Insurgeria (new recording, w/ Udo Dirkschneider & Marco Wriedt)
- Celebration Day (new recording, w/ Bernhard Weiß)
- Lights Out (new recording, w/ Peter Knorn)
- End Of All Days (new recording, w/ Amanda Somerville & Corvin Bahn)
- Broken (new Track)
- All Above The Atmosphere (new recording, w/ Herbie Langhans & Herman Frank)
- Coast To Coast (new recording, w/ Michael Ehré, Stephan Lill & Chity Somapala)
- How The Gypsy Was Born (remastered, w/ Peavy Wagner)
- Run With The Wolf (new recording, w/ Sascha Paeth)
- My Kingdom Come (new Track, Orchestral Version, w/ Corvin Bahn)
DISC 3: SINGLE
- My Kingdom Come (new Track)
- Meet You In Heaven (Live at Pumpwerk, Wilhelmshaven, 2004, prev. unreleased)
DISC 4: DVD
- Children Of The Flames
- Trial By Fire
- Astral Hand
- Unholy War
- Ashes To Ashes
- Fuel To The Fire
- Veil Of Death
- Last Farewell
- In The Land Of Wind And Rain
- Black Rain
- Hollowed Be Thy Name
The Official Videos:
- Lost
- Ice and Fire
- Astral Hand
- Last Farewell
- Black Rain
Bonus:
- The Roadmob Bootlegs:
01. Tele Box Fool - Live @ Rockfabrik Nuremberg (2013)
02. Ethnolution Tour "The Scandinavian Chapter" (2007)
03. The Magic Circle Files (2007)
04. The Glance Of Fame (unofficial Clip)
05. Cannibal Nation Drumrecording Outtakes
06. Invitation Time (Live @ Pumpwerk, Wilhelmshaven, 2004)
07. Meet You In Heaven (Live @ Pumpwerk, Wilhelmshaven, 2004)
METAL HAMMER / CLASSIC ROCK präsentieren
MOB RULES
20th ANNIVERSARY SHOWS
26.09.2014 - D - Delmenhorst, Slatterys
27.09.2014 - D - Nordenham, Jahnhalle
11.10.2014 - D - Steinenbronn, Air Axes Festival
17.10.2014 - D - Bremen, Tivoli (w/ Sinbreed)
24.10.2014 - D - Duisburg, Parkhaus
25.10.2014 - D - Wilhelmshaven, Pumpwerk /Break The Barriers Festival (w/ Gamma Ray)
15.11.2014 - D - Weissenhäuser Strand/Metal Hammer Paradise
13.12.2014 - D - Oldenburg, Cadillac
Mehr Infos unter: