Die schwedischen Metal-Pioniere THE HAUNTED werden am 22. August ihr neues Album "Exit Wounds" über ihren langjährigen Label-Partner Century Media Records veröffentlichen. Das mit Spannung erwartete neue Album wurde erneut mit Tue Madsen im dänischen Antfarm Studio (u.a. Dark Tranquillity, Heaven Shall Burn, Sick Of It All) produziert und geht musikalisch wieder zurück zu den Thrash Metal Wurzeln der Band zurück.
Die Zeit ist also nun reif für den ersten Höreindruck von "Exit Wounds". Den Opener "Cutting Teeth" könnt ihr euch ab sofort über die Webseite vom Metal Hammer Magazin hier anhören: http://www.metal-hammer.de/video-audio/premieren/article603952
THE HAUNTED Sänger Marco Aro sagt über "Cutting Teeth" folgendes: "Here's an evil little piece of work that was one of the last songs we recorded for 'Exit Wounds'. It represents quite a lot of what The Haunted is all about: Breaking new ground, pissing people off, exploring unfamiliar territories, all of this...just to feed the hungry machine that is The Haunted! Always curious, always hungry, always thirsting for more....in words...'Cutting Teeth'!"
THE HAUNTED sind außerdem sehr glücklich darüber, zwei Special Guests ihres neuen Albums zu präsentieren: Bei dem Song "Trend Killer" bekommen sie nämlich prominente Unterstützung von Jed Simon (Scar The Martyr / Strapping Young Lad) fürs Gitarrensolo und gesanglich von Chuck Billy (Testament).
Chuck Billy kommentiert seinen Beitrag wie folgt: "I have always been a THE HAUNTED fan and became friends with the band over the years. When they asked if I would like to sing on a song for the new album with Marco singing, I didn't have to think twice about doing it. When I received the track and listened for the first time, I said 'Fuck Yeah...this is gonna be brutal!'"
Hier ist das Tracklisting von "Exit Wounds" in seiner Standard Edition: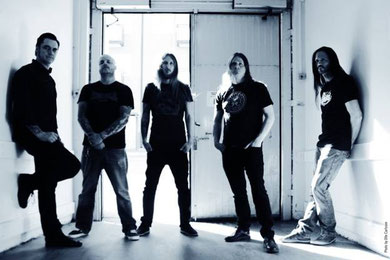 THE HAUNTED – "Exit Wounds":
01. 317
02. Cutting Teeth
03. My Salvation
04. Psychonaut
05. Eye Of The Storm
06. Trend Killer
07. Time (Will Not Heal)
08. All I Have
09. Temptation
10. My Enemy
11. Kill The Light
12. This War
13. Infiltrator
14. Ghost In The Machine
"Exit Wounds" ist quasi das Debüt für die runderneuerten Bandkonstellation von THE HAUNTED: Die Band besteht inzwischen aus den Gründungsmitgliedern Jonas Björler (Bass) und Jensen (Gitarre), den zurückgekehrten Mitgliedern Adrian Erlandsson (Schlagzeug) und Marco Aro (Gesang), sowie ihrem neuesten Mitglied Ola Englund (Gitarre).
Und noch eine gute Neuigkeit: THE HAUNTED Gitarrist Jensen ist auf dem Cover der aktuellen Ausgabe (# 164) des schwedischen Close-Up Magazins zu sehen: http://www.closeupmagazine.net/number.php?id=134 oder auch hier: https://www.facebook.com/CloseUpMagazine
Die kommenden Konzertdaten von THE HAUNTED lauten wie folgt:
THE HAUNTED – Live 2014:
07.08.2014 - S - Gävle, Getaway Rock Festival
08.08.2014 - D - Schlotheim, Party.San Open Air
09.08.2014 - P - Vagos, Vagos Open Air
14.08.2014 - D - Dinkelsbühl, Summer Breeze Open Air
23.09.2014 - FIN - Jyväskylä, Lutakko
24.09.2014 - FIN - Helsinki, Tavastia
25.09.2014 - FIN - Tampere, Klubi
27.09.2014 - S - Örebro, Ritz
02.10.2014 - NO - Oslo, John Dee
03.10.2014 - S - Borlänge, Liljan
04.10.2014 - S - Malmö, Kulturbolaget
09.10.2014 - S - Stockholm, Klubben
10.10.2014 - S - Karlstad, Verket
11.10.2014 - S - Göteborg, Trädgårn
Hier einige weitere Promo-Links zum "Exit Wounds" Album:
"Eye Of The Storm" (7" Version): http://www.youtube.com/watch?v=rpQN86z5lNg
"My Enemy" (7" Version): http://www.youtube.com/watch?v=cwQZ0vAIf0Y
Studio Botschaft # 1: http://www.youtube.com/watch?v=rXL9gEXemUI
Studio Botschaft # 2: http://youtu.be/aeu1DzQvphw
Studio drum kit rundown: http://www.youtube.com/watch?v=pLx7U-Bat0U
Proberaum Footage: https://www.youtube.com/watch?v=u8KR3ZOaR-g
"Trespass" play-through Video: https://www.youtube.com/watch?v=WxEDLJf3_Pc
"D.O.A." split-guitar play-through Video: https://www.youtube.com/watch?v=ClsY3EQhBYc
Einen ersten Vorgeschmack auf das neue Album gab es bereits im Januar mit der Veröffentlichung der ersten Singleauskopplung, "Eye Of The Storm". Zu bestellen ist die 7" EP bei CM Distro hier:
http://smarturl.it/thehauntedCMD
oder als digitale Version bei iTunes hier:
http://smarturl.it/eyeofthestorm_itunes
THE HAUNTED online: