Getreue Heavy Metal Anhänger, WOLF kehren mit ihrem siebten Studioalbum "Devil Seed" zurück. Das Album wird am 22. August via Century Media Records veröffentlicht.
Dieses Mal haben die Wölfe mit Jens Bogren (Kreator, Paradise Lost, Opeth) zusammen gearbeitet und in den Fascination Street Studios nicht nur brachialen Sound, sondern auch Klarheit und Komplexität in ihre Songs gepackt. Mit dem Cover-Artwork, das wieder einmal von dem legendären Designer Thomas Holm (Mercyful Fate, King Diamond) kreiert wurde, sind alle Elemente dieser heftigen Scheibe aus purem Heavy Metal Wahnsinn bestens aufeinander abgestimmt.
Simon Johansson (Gitarre) kommentiert: "WOLF is back and once again we have worked with the amazing Thomas Holm (Mercyful Fate / King Diamond) for the album art. Thomas has a way of catching the feeling of an album and to put colors to our music. This time Niklas Stålvind also contributed to some drawings found in the booklet and the collaboration between the two of them turned out great. Devil Seed starts as an embryo and when you least aspect it you find yourself dancing with the Devil."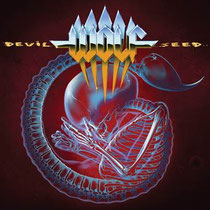 "Devil Seed" Tracklisting:
01. Overture in C Shark
02. Shark Attack
03. Skeleton Woman
04. Surgeons Of Lobotomy
05. My Demon
06. I Am Pain
07. Back From The Grave
08. The Dark Passenger
09. River Everlost
10. Frozen
11. Killing Floor
WOLF live:
The Devil Seed Tour 2014
26.07.2014 - S - Frövi, Rockviken
11.09.2014 - UK - Manchester, Sound Control
12.09.2014 - UK - Northampton, Rock N' Metal Circus
13.09.2014 - UK - Nottingham, Rescue Rooms
14.09.2014 - UK - London, Borderline
20.12.2014 - S - Varberg, Sociteten
Further European dates to be announced soon.
WOLF online: