Das neue ARCH ENEMY Album "War Eternal" wird in wenigen Wochen das Licht der Welt erblicken. Ausführliche Infos geben Michael Amott (Gitarre) und die neue Sängerin Alissa White-Gluz in einem exklusiven Video Interview: http://youtu.be/gaVhRdpmAss
"War Eternal" wird am Freitag den 06. Juni, 2014 erscheinen und ARCH ENEMY werden dies gebührlich auf zwei Release Shows in Deutschland mit ihren Fans feiern:
05.06.2014 - Rosenhof - Osnabrück, Germany
13.06.2014 - Colos-Saal - Aschaffenburg, Germany
Support Bands für beide Shows sind die Death Thrasher Izegrim aus Holland und Dying Gorgeous Lies aus Bayern, die ebenfalls eine gute Thrash Kante liefern.
Die Rosenhof, Osnabrück Show wird euch um Mitternacht erstmalig die Gelegenheit bieten das "War Eternal" Album zu kaufen und die gesamte Band wird jedes Exemplar persönlich signieren. Die Gelegenheit bietet sich natürlich auch in Aschaffenburg, aber die Band bittet darum Verständnis zu haben, dass sie nach der Show früh wieder los müssen, um am nächsten Tag rechtzeitig zur nächsten Show in schönem Dornbirn in Österreich zu erscheinen.
Einen Vorgeschmack auf zwei Songs gibt es hier:
"War Eternal" http://www.muzu.tv/arch-enemy/war-eternal-musikvideo/2184580/
"As The Pages Burn" http://www.muzu.tv/arch-enemy/as-the-pages-burn-musikvideo/2207388/
War Eternal' kann ab sofort bei iTunes & AmazonMP3 vorbestellt werden, wobei die beiden Songs "War Eternal" und "As The Pages Burn" direkt heruntergeladen werden können (ein weiterer Track, "You Will Know My Name", steht dann ab dem 26. Mai zum Download bereit):
iTunes www.smarturl.it
AmazonMP3 www.smarturl.it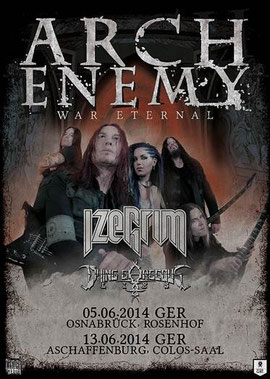 "War Eternal" Tracklist:
01. Tempore Nihil Sanat (Prelude in F minor)
02. Never Forgive, Never Forget
03. War Eternal
04. As The Pages Burn
05. No More Regrets
06. You Will Know My Name
07. Graveyard Of Dreams
08. Stolen Life
09. Time Is Black
10. On And On
11. Avalanche
12. Down To Nothing
13. Not Long For This World
Bonus track: Shadow On The Wall (Mike Oldfield cover)
Album Formate:
Standard CD
Ltd. CD Mediabook Europe version (+ bonus track & patch)
Digipak CD US version (+ bonus track, patch & sticker)
Deluxe 3CD Artbook (+ bonus track & patch) :
- worldwide limited to 2,500 hand-numbered copies
- extended booklet
- "Seeds Of War – The Demos" 5-track bonus CD
- guitar tabs (PDF and Guitar Pro 6 format w/ Guitar Pro 6 Lite Win & Mac versions)
- extra CD with instrumental play-through version of the album!
LP, 180gr, gatefold cover, special vinyl mastering:
- Black vinyl – worldwide not limited
- Silver vinyl: 300 copies
- Red vinyl: 200 copies exclusive at CM Distro US
- Gold Vinyl: 100 copies exclusive at CM Distro Europe
- White vinyl: 200 copies exclusive at Nuclear Blast Europe
Digital album (+ Bonus Track)
Mehr Details, spezielle Bundle Angebote und Pre-Order Links hier: http://smarturl.it/wareternal
ARCH ENEMY Live:
(support by Izegrim and Dying Gorgeous Lies)
23.05.2014 - RO - Bucharest, Turbohalle
24.05.2014 - TR - Istanbul, Metal Summer Festival
25.05.2014 - BG - Sofia, Mixtape 5
27.05.2014 - SLO - Bratislava, Majestic Music Club
29.05.2014 - I - Romagnano Sesia (Novara), Rock and RollArena
30.05.2014 - I - Roncade, New Age Club
02.06.2014 - F - Rennes, L'Etage
03.06.2014 - F - Rouen, Le 106
04.06.2014 - F - Strasbourg, La Laiterie
05.06.2014 - D - Osnabrück, Rosenhof
07.06.2014 - S - Sölvesborg, Sweden Rock Festival
09.06.2014 - NO - Bergen, Studio USF
10.06.2014 - NO - Oslo, John Dee
11.06.2014 - DK - Kopenhagen, Copenhell
13.06.2014 - D - Aschaffenburg, Colos-Saal
14.06.2014 - A - Dornbirn, Conrad Sohm
15.06.2014 - A - Nickelsdorf, Nova Rock
27.06.2014 - D - Dischingen, Rock am Härtsfeldsee
09.07.2014 - HU - Pecs, RockMaraton
11.07.2014 - D - Ballenstedt, Rock Harz Open Air
12.07.2014 - CZ - Vizovice, Masters Of Rock
13.07.2014 - PL - Wegorzewo, Seven Festival
19.07.2014 - D - Neukirchen-Vluyn, Dong Open Air
02.08.2014 - D - Wacken, Wacken Open Air
07.08.2014 - S - Gävle, Getaway Rock
08.08.2014 - E - Alicante, Leyendas Del Rock
09.08.2014 - B - Kortrijk, Alcatraz, Metal Festival
14.08.2014 - D - Dinkelsbühl, Sumer Breeze
17.08.2014 - UK - Kettering, Alt-Fest
17.09.2014 - FIN - Joensuu, Kerubi
18.09.2014 - FIN - Tampere, Pakkahuone
19.09.2014 - FIN - Helsinki, The Circus
supporting KREATOR:
(Kreator, Arch Enemy, Sodom, Vader)
26.11.2014 - F – Lyon, Le Transbordeur *
27.11.2014 - F – Istres, L´Usine *
28.11.2014 - E – Barcelona, Razzmatazz 1 *
29.11.2014 - E – Madrid, La Riviera *
01.12.2014 - F – Toulouse, Le Bikini *
02.12.2014 - F – Paris, Le Bataclan *
04.12.2014 - NL – Tilburg, 013
05.12.2014 - D – Ludwigsburg, MHP Arena
06.12.2014 - D – Oberhausen, Turbinenhalle
07.12.2014 - D – Saarbrücken, Garage
08.12.2014 - D – Hamburg, Grosse Freiheit 36
09.12.2014 - D – Berlin, Huxleys
11.12.2014 - D – Wiesbaden, Schlachthof
12.12.2014 - D – Geiselwind, Eventhall
13.12.2014 - D – München, Tonhalle
14.12.2014 - CH – Pratteln, Z7
16.12.2014 - UK – Birmingham, Institute *
17.12.2014 - UK – Bristol, Academy *
18.12.2014 - UK – London, The Forum *
19.12.2014 - UK – Manchester, Academy *
20.12.2014 - IRL – Dublin, Academy *
21.12.2014 - UK – Glasgow, QMU *
22.12.2014 - UK – Newcastle, Academy *
* ohne Sodom und Vader
ARCH ENEMY online:
www.facebook.com/archenemyofficial
www.youtube.com/user/archenemyofficial
https://twitter.com/archenemymetal