Gute Nachrichten für alle Queensrÿche Fans! Der legendäre Metal-Band aus Seattle kehrt nach Europa zurück, um Sommer-Festivals sowie einige Headline-Shows zu spielen. Armored Saint und Death Angel werden sie an besonderen Terminen unterstützen.

Auf einer neuen Queensrÿche-Leinwand mit der gefestigten Staffelei der Band, die es seit Jahren gab, werden Eddie Jackson, Todd LaTorre, Parker Lundgren, Scott Rockenfield und Michael Wilton ein neues Meisterstück kreieren. Die Band hat bereits begonnen an neuem Material zu arbeiten. Das neue Album ist vorläufig zum Release im Spätsommer 2015 geplant.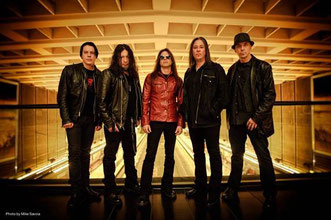 Queensrÿche - Live:
18.07.2015 - D - Balingen, Bang Your Head Festival
21.07.2015 - SLO - Tolmin, Metaldays Festival
31.07.2015 - D - Wacken, Wacken Open Air
01.08.2015 - S - Rejmyre, Skogsrojet Festival
03.08.2015 - NL - Amsterdam, Melkweg*
04.08.2015 - B - Eindhoven, Effenaar*
05.08.2015 - UK - Bristol, Marble Factory**
06.08.2015 - UK - London, Electric Ballroom* **
07.08.2015 - UK - Brighton, Concorde 2**
08.08.2015 - B - Kortrijk, Alcatraz Festival
* mit Amored Saints
** mit Death Angel
Weitere Daten werden bald bekannt gegeben.

Queensrÿche Linup:
Todd La Torre - Vocals
Michael Wilton - Guitars
Parker Lundgren - Guitars
Eddie Jackson - Bass
Scott Rockenfield - Drums

QUEENSRŸCHE online:
www.queensrycheofficial.com
www.facebook.com

---
haben Arbeiten an neuem Album begonnen
Nachdem nun alle Streitigkeiten um den Bandnamen geklärt wurden, ist es an der Zeit für ein weiteres QUEENSRŸCHE-Meisterwerk. Eddie Jackson, Todd La Torre, Parker Lundgren, Scott Rockenfield und Michael Wilton haben bereits mit dem Schreiben von neuem Material für den Nachfolger des hochgelobten, selbstbetitelten Albums von 2013 begonnen. Die Veröffentlichung ist derzeit für den frühen Sommer 2015 angedacht.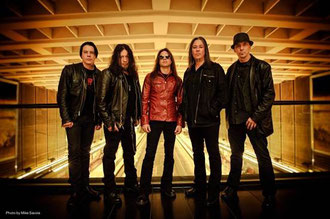 "The Queensrÿche internal dynamic has certainly changed in terms of musicianship. It's more of a cohesive team and the chemistry we have now is making what we can do creatively limitless. For Queensrÿche, it was always about being able to write together as a band. We didn't have that for a long time but now that it's back, we feel extremely liberated," sagt Gründungsmitglied und Gitarrist Michael Wilton. "We've already begun the writing process for the next album and have a few songs demoed that we feel really good about. We're taking the songs in the classic Queensrÿche direction but maybe a little more progressive and heavier at times. The thing is, you never know what you really have until it's complete. We can't wait for the final outcome. Writing with such a dynamic group of individuals has been nothing short of amazing."
Erst kürzlich erreichten QUEENSRŸCHE im Streit um ihren Bandnamen einen Vergleich, bei dem Eddie Jackson, Scott Rockenfield und Michael Wilton ihre Zustimmung gaben, Geoff Tate seinen Anteil der Namensrechte abzukaufen, wobei dieser wiederum das alleinige Recht erhält, Operation: Mindcrime und Operation: Mindcrime II in voller Länge live aufzuführen. Geoff Tate darf außerdem, abgesehen von den Mindcrime-Releases, keines der Artworks und auch nicht das TriRyche-Logo verwenden. Den Bandnamen darf er innerhalb der nächsten zwei Jahre lediglich als Zusatz, wie "Original Lead Singer of Queensrÿche" oder "Formerly of Queensrÿche", verwenden, wobei dieser Text immer 50% kleiner abgebildet werdem muss, als sein eigener Name. Nach Ablauf dieser zwei Jahre darf er den Bandnamen in keiner Weise mehr verwenden. Geoff Tate wird die für sein Line-Up bisher bestätigten Shows, die vor dem 31. August 2014 stattfinden werden, noch unter dem Namen Queensrÿche absolvieren. Ab dem 1. September 2014 wird es also nur noch eine Formation mit dem Namen QUEENSRŸCHE geben und zwar bestehend aus Eddie Jackson, Todd La Torre, Parker Lundgren, Scott Rockenfield und Michael Wilton. In dieser Konstellation werden sie auch weiterhin Stücke aus ihrem gesamten Repertoire, einschließlich Operation: Mindcrime, aufführen. Außerdem erhalten sie das Recht, alle TriRyche-Logos und Artworks zu verwenden.
Queensrÿche Line-Up:
Todd La Torre (Vocals)
Michael Wilton (Gitarre)
Parker Lundgren (Gitarre)
Eddie Jackson (Bass)
Scott Rockenfield (Drums)
Queensrÿche live:
04.06.2014 - S - Sweden Rock Festival, Sölvesborg
Queensrÿche online: