Nachdem sie kürzlich das Video zum Titeltrack ihres neuen Albums (welches mittlerweile über 2 Millionen Klicks auf YouTube hat) veröffentlicht haben, präsentieren die Metal-Ikonen von ARCH ENEMY nun die zweite Single ihres bisher 9. Studioalbums 'War Eternal', welches am 6. Juni von Century Media Records (Trooper Entertainment in Japan) veröffentlicht wird.
Das neue Video zu "As The Pages Burn" könnt Ihr euch unter folgendem Link ansehen: http://smarturl.it/asthepagesburnVIDEO
Hauptsongwriter und Bandleader Michael Amott kommentiert: "'As The Pages Burn' almost goes back to the style of writing that I had in the late 90's. It's very old school ARCH ENEMY with an almost SLAYER-vibe in the intro/verse and a huge melodic chorus. A bit like 'The Immortal' and other AE classics of that time. The middle section is very classical music inspired – a twin guitar part that is a lot fun to play. Alissa wrote the lyrics for the song. This song is an example of what I love about collaborating-- in the songwriting, I'm giving her the instrumental, and she comes from a different background, and the two different approaches merge together to form a very interesting result that blew my mind. It's one of my favorite tracks on the album."
Frontfrau Alissa White-Gluz ergänzt: "'As The Pages Burn' is also one of my favorite songs. I think it's going to be a very fun song to perform live. I really like fast-paced, energetic songs. A lot of the lyrics on the album are coming straight from my brain during sleepless nights. I often wake up in the middle of the night from horrible nightmares and just start writing songs. For whatever reason, I like the lyrics that I get that way, they feel real and uncensored. This song is one that I wrote at 4am in the dark, half asleep. In the morning I woke up and thought, 'This is cool, I'm going to use this, and I know just the music to put it to'. The musical dynamics in the song are very satisfying to sing to as well. I hope you like it!"
Um einen weiteren Vorgeschmack auf 'War Eternal' zu bekommen, könnt Ihr euch hier das Video zum Titeltrack ansehen, das von Regisseur Patric Ullaeus produziert wurde: http://www.muzu.tv/arch-enemy/war-eternal-musikvideo/2184580/
'War Eternal' kann ab sofort bei iTunes & AmazonMP3 vorbestellt werden, wobei die beiden Songs "War Eternal" und "As The Pages Burn" direkt heruntergeladen werden können (ein weiterer Track, "You Will Know My Name", steht dann ab dem 26. Mai zum Download bereit):
iTunes http://smarturl.it/wareternalITUNES
AmazonMP3 http://smarturl.it/wareternalAMAZONMP3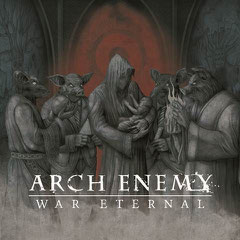 War Eternal Tracklisting (Standard Edition)
01. Tempore Nihil Sanat (Prelude in F minor)
02. Never Forgive, Never Forget
03. War Eternal
04. As The Pages Burn
05. No More Regrets
06. You Will Know My Name
07. Graveyard Of Dreams
08. Stolen Life
09. Time Is Black
10. On And On
11. Avalanche
12. Down To Nothing
13. Not Long For This World
Im Mai werden ARCH ENEMY auf große Welttournee gehen, welche in Europa beginnt. Eine US Tour ist geplant für Herbst 2014. Let the eternal war begin!
ARCH ENEMY live:
23.05.2014 - RO - Bucharest, Turbohalle
24.05.2014 - TR - Istanbul, Metal Summer Festival
25.05.2014 - BG - Sofia, Mixtape 5
27.05.2014 - SLO - Bratislava, Majestic Music Club
29.05.2014 - I - Romagnano Sesia (Novara), Rock and RollArena
30.05.2014 - I - Roncade, New Age Club
02.06.2014 - F - Rennes, L'Etage
03.06.2014 - F - Rouen, Le 106
04.06.2014 - F - Strasbourg, La Laiterie
05.06.2014 - D - Osnabrück, Rosenhof
07.06.2014 - S - Sölvesborg, Sweden Rock Festival
09.06.2014 - NO - Bergen, Studio USF
10.06.2014 - NO - Oslo, John Dee
11.06.2014 - DK - Kopenhagen, Copenhell
13.06.2014 - D - Aschaffenburg, Colos-Saal
14.06.2014 - A - Dornbirn, Conrad Sohm
15.06.2014 - A - Nickelsdorf, Nova Rock
27.06.2014 - D - Dischingen, Rock am Härtsfeldsee
09.07.2014 - HU - Pecs, RockMaraton
11.07.2014 - D - Ballenstedt, Rock Harz Open Air
12.07.2014 - CZ - Vizovice, Masters Of Rock
13.07.2014 - PL - Wegorzewo, Seven Festival
19.07.2014 - D - Neukirchen-Vluyn, Dong Open Air
02.08.2014 - D - Wacken, Wacken Open Air
07.08.2014 - S - Gävle, Getaway Rock
08.08.2014 - E - Alicante, Leyendas Del Rock
09.08.2014 - B - Kortrijk, Alcatraz, Metal Festival
14.08.2014 - D - Dinkelsbühl, Sumer Breeze
17.08.2014 - UK - Kettering, Alt-Fest
17.09.2014 - FIN - Joensuu, Kerubi
18.09.2014 - FIN - Tampere, Pakkahuone
19.09.2014 - FIN - Helsinki, The Circus
ARCH ENEMY, KREATOR, SODOM, VADER tour dates
26.11.2014 - F – Lyon, Le Transbordeur *
27.11.2014 - F – Istres, L´Usine *
28.11.2014 - E – Barcelona, Razzmatazz 1 *
29.11.2014 - E – Madrid, La Riviera *
01.12.2014 - F – Toulouse, Le Bikini *
02.12.2014 - F – Paris, Le Bataclan *
04.12.2014 - NL – Tilburg, 013
05.12.2014 - D – Ludwigsburg, MHP Arena
06.12.2014 - D – Oberhausen, Turbinenhalle
07.12.2014 - D – Saarbrücken, Garage
08.12.2014 - D – Hamburg, Grosse Freiheit 36
09.12.2014 - D – Berlin, Huxleys
11.12.2014 - D – Wiesbaden, Schlachthof
12.12.2014 - D – Geiselwind, Eventhall
13.12.2014 - D – München, Tonhalle
14.12.2014 - CH – Pratteln, Z7
16.12.2014 - UK – Birmingham, Institute *
17.12.2014 - UK – Bristol, Academy *
18.12.2014 - UK – London, The Forum *
19.12.2014 - UK – Manchester, Academy *
20.12.2014 - IRL – Dublin, Academy *
21.12.2014 - UK – Glasgow, QMU *
22.12.2014 - UK – Newcastle, Academy *
* ohne Sodom und Vader
ARCH ENEMY online:
http://www.facebook.com/archenemyofficial
http://www.youtube.com/user/archenemyofficial