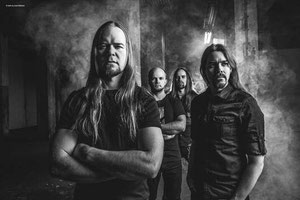 Ville Friman von INSOMNIUM kommentiert: "Couple of weeks ago we travelled to Wroclaw, Poland, to shoot the first music video from "Shadows of the Dying Sun". This time we decided to work with a Polish production company, Grupa 13, whose work includes new Behemoth video amongst others. The song we chose for the video is called "While We Sleep". It's a wistful song with all typical Insomnium elements included - riffs, melodies, aggression, sorrow, grandeur and hope. We shot everything within one day and it was really a pleasure to work with such a professional film group. Everything went smoothly and we are amazed and very happy with the ending result. You really can't complain when the film group provides you vodka schnaps between the takes. We sincerely hope that you'll like the ending result as much as we do."
Des Weiteren haben INSOMNIUM die Tracklist von "Shadows Of The Dying Sun" veröffentlicht: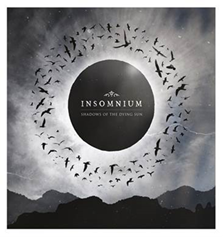 01. The Primeval Dark
02. While We Sleep
03. Revelation
04. Black Heart Rebellion
05. Lose To Night
06. Collapsing Words
07. The River
08. Ephemeral (album version)
09. The Promethean Song
10. Shadows Of The Dying Sun
Die Band hat außerdem unter folgendem Link ein Lyric-Video zum Song "Revelation" veröffentlicht: http://www.muzu.tv/insomnium/revelation-lyric-video-video/2184496/
INSOMNIUM Live
30.04.2014 - NL - Tilburg, 013 (w/ Epica)
02.05.2014 - NO - Haugesund, Karmøygeddon Festival
08.05.2014 - FIN - Jyväskylä, Lutakko
09.05.2014 - FIN - Joensuu, Kerubi
10.05.2014 - FIN - Helsinki, Circus
06.-08.06.2014 - D - Gelsenkirchen, Rock Hard Festival
27.06.2014 - D - Dischingen, Rock am Härtsfeldsee Festival
27.06.2014 - FIN - Helsingfors, Tuska Festival
10.07.2014 - D - Bellenstedt, Rockharz Festival
11.07.2014 - FIN - Jonsuu, Ilosaarirock Festival
14.-16.08.2014 - D - Dinkelsbühl, SummerBreeze Festival
Mehr Tourdaten werden in Kürze angekündigt!
INSOMNIUM Online:
http://www.facebook.com/insomniumofficial
http://twitter.com/insomniumband
http://www.myspace.com/insomniumband