Die Metal-Ikonen ARCH ENEMY werden ihr 9. Studioalbum "War Eternal" Anfang Juni 2014 weltweit bei Century Media Records und in Japan bei Trooper Entertainment veröffentlichen. Das Artwork des Albums stammt von Costin Chioreanu (http://twilight13media.com/), der schon beim Re-issue des selbstbetitelten SPIRITUAL BEGGARS-Debüts mit Michael Amott zusammenarbeitete.
Gitarrist, Bandleader und Hauptsongwriter Michael Amott kommentiert: "I was looking for a hand-drawn feel with a unique atmosphere, something that would complement the music that we've been working so hard on these last couple of years. In the end my choice fell upon Romanian artist Chioreanu Costin, who's work I've admired for some time. Costin really grasped my vision for the artwork and layout, he's delivered some of the coolest artwork elements we've ever had with ARCH ENEMY!"
Das kommende Album "War Eternal" wurde in mehreren verschiedenen Studios im Winter 2013/2014 aufgenommen und von der Band selbst produziert. Gemischt und gemastert wurde das Album von Jens Bogren (Opeth, Paradise Lost, Kreator) im Fascination Street Studio. Einen ersten Eindruck könnt Ihr mit dem Video zum Titeltrack "War Eternal" bekommen, das von Patric Ullaeus produziert wurde: http://www.muzu.tv/arch-enemy/war-eternal-official-video-musikvideo/2184580/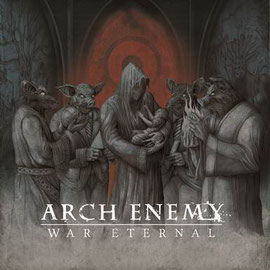 War Eternal tracklisting (Standard Edition)
01. Tempore Nihil Sanat (Prelude in F minor)
02. Never Forgive, Never Forget
03. War Eternal
04. As The Pages Burn
05. No More Regrets
06. You Will Know My Name
07. Graveyard Of Dreams
08. Stolen Life
09. Time Is Black
10. On And On
11. Avalanche
12. Down To Nothing
13. Not Long For This World
ARCH ENEMY werden ihre "War Eternal" Welttournee im Mai mit einer ausgedehnten Europatour beginnen. Eine US-Tour ist für den Herbst 2014 geplant.
Let the eternal war begin!
ARCH ENEMY live
23.05.2014 - RO - Bucharest, Turbohalle
24.05.2014 - TR - Istanbul, Metal Summer Festival
25.05.2014 - BG - Sofia, Mixtape 5
27.05.2014 - SLO - Bratislava, Majestic Music Club
29.05.2014 - I - Romagnano Sesia (Novara), Rock and RollArena
30.05.2014 - I - Roncade, New Age Club
02.06.2014 - F - Rennes, L'Etage
03.06.2014 - F - Rouen, Le 106
04.06.2014 - F - Strasbourg, La Laiterie
05.06.2014 - D - Osnabrück, Rosenhof
07.06.2014 - S - Sölvesborg, Sweden Rock Festival
09.06.2014 - NO - Bergen, Studio USF
10.06.2014 - NO - Oslo, John Dee
11.06.2014 - DK - Kopenhagen, Copenhell
13.06.2014 - D - Aschaffenburg, Colos-Saal
14.06.2014 - A - Dornbirn, Conrad Sohm
15.06.2014 - A - Nickelsdorf, Nova Rock
27.06.2014 - D - Dischingen, Rock am Härtsfeldsee
09.07.2014 - HU - Pecs, RockMaraton
11.07.2014 - D - Ballenstedt, Rock Harz Open Air
12.07.2014 - CZ - Vizovice, Masters Of Rock
13.07.2014 - PL - Wegorzewo, Seven Festival
19.07.2014 - D - Neukirchen-Vluyn, Dong Open Air
02.08.2014 - D - Wacken, Wacken Open Air
07.08.2014 - S - Gävle, Getaway Rock
08.08.2014 - E - Alicante, Leyendas Del Rock
09.08.2014 - B - Kortrijk, Alcatraz, Metal Festival
14.08.2014 - D - Dinkelsbühl, Sumer Breeze
17.08.2014 - UK - Kettering, Alt-Fest
ARCH ENEMY online:
https://www.facebook.com/archenemyofficial
https://www.youtube.com/user/archenemyofficial